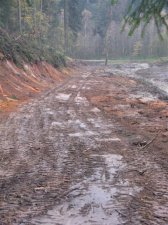 Po včerejším šoku jsem se dnes pustil do zjišťování, zda ta šílená lesní silnice vzniká s požehnáním úřadů, čemuž jsem se ovšem zdráhal uvěřit. Ráno na CHKO se taky ukázalo, že stavebník, obec Rynoltice, provádí stavbu bez vyjádření CHKO i bez povolení stavebního úřadu v Hrádku. Stavba je to tudíž nelegální, vzhledem ke svému rozsahu na ní měl být vypracován projekt a měla být povolena stavebním úřadem.
Pozitivní na této schůzce bylo, že již před deseti dny tuto "akci" někdo na CHKO oznámil. Ačkoliv nevím, kdo to byl, chtěl bych mu tímto poděkovat. Je dobře, že se najdou lidé,… kterým není lhostejné, co se kolem nás děje.
CHKO minulý týden zaslala podnět na Stavební úřad v Hrádku a vyzvala je, aby zahájili řízení. Současně kontaktovali pana Dudu, lesního správce obce Rynoltice, a vyzvala ho, aby práce okamžitě přerušil. Tolik k situaci do dnešního dne.
Z CHKO jsem vyrazil rovnou na stavební úřad. Vedoucí stavebního úřadu, pan Rada, se následně vypravil přímo na místo a ten pohled na něj zapůsobil tak, že rovnou zamířil na obecní úřad v Rynolticích. Na místě se dozvěděl, že celá akce je iniciativou pana Dudy (!!!), obec je v tom prý zcela nevinně. Na pondělí si pana Dudu, který nebyl přítomen, pozval na jednání na stavební úřad.
Dalším dnešním krokem byla schůzka s panem Bestou, vedoucím CHKO, a jeho kolegou, panem Růžičkou, přímo na místě. V gumákách jsme se celou půlkilometrovou trasou probrodili a fotograficky zdokumentovali. Přímo na místě pánové z CHKO zjistili, že stavební práce pokračovaly i po jejich výzvě k jejich přerušení. Oba vypadali dost šokovaní stavem "cesty", prý se s něčím podobným ještě nesetkali.. V pondělí se pan Besta vypraví na obecní úřad v Rynolticích a na stavební v Hrádku. Následně vypíše místní šetření, ke kterému budeme jako OS přizváni..
Několik postřehů z dnešního dne:
– Podle názorů pánů z CHKO je cesta nesmyslná rovněž ekonomicky. Podle plánů těžby by se zde mělo vytěžit 300 m3, to znamená tak 400 stromů. Vybudování lesní silnice je zcela neadekvátní objemu těžby. Zajímalo by mě, na kolik tyto práce obec přišly a jestli se někdo zabýval návratností této investice.
– Kromě ekonomické nesmyslnosti je cesta nesmyslná i způsobem provedení. Těleso cesty je nyní tvořeno směsí písku, bláta a zbytků větví, takže první traktor, který na ní vjede, do ní zapadne a nadělá půlmetrové koleje. Cesta je místy nesmyslně široká, na začátku odhadem až sedm metrů! V té souvislosti opravdu není od věci mluvit o lesní dálnici…
– Cesta místy vůbec nerespektuje trasu cesty původní, občas se od ní odchýlí o 4-5 metrů…
– Pokračování směrem k Černé Louži má takový sklon, že stržení vrchní vrstvy znamená, že během deštů se po této cestě povalí voda a bude jí vymílat a hlínu odnášet do nivy potoka.
Kdo jste v Polesí či na Louži cokoliv stavěl či upravoval víte, jak složité je splnit všechny podmínky, které jsou zde na stavebníka kladeny. O to víc je zarážející, že zástupci obce si dovolí provést nesrovnatelně větší zásah zcela na černo. Zřejmě s představou toho, že nakonec se stejně nic nestane a projde jim to.. Záleží na nás, aby to tak nedopadlo! Ano, něco je již zničeno nenávratným způsobem, ale lecos se ještě dá zachránit. A hlavně, nesmíme si přece nechat vše líbit!
Závěrem bych chtěl poděkovat všem pracovníkům CHKO, kde jsem se setkal se vstřícností a snahou něco s touto záležitostí udělat.