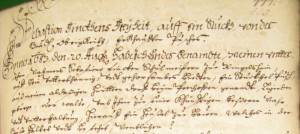 Všichni dobře známe historii, vážící se k založení osady Polesí. O selských bouřích v roce 1679-1680 a o tom, jak na vzbouřené sedláky lemberské vrchnosti donášel rynoltický učitel Sebastian Finke, za což byl následně odměněn možností zakoupit si pozemek pro zbudování domu v místě dnešního Polesí. Některé zdroje dokonce uvádějí takové detaily, jako že byl pro svou spolupráci s vrchností v Rynolticích do té míry neoblíben, že musel z obce v podstatě uprchnout. Tato historie se opakuje jak v beletrii (Václav Kaplický Železná koruna), tak i v řadě starších vlastivědných publikací i novodobích průvodcích a internetových stránkách.
Tyto informace se v podstatě s nepatrnými obměnami přenášejí z jednoho zdroje do druhého a tak mě zajímalo, kde mají svůj původ a zda je ještě dnes možné dohledat skutečně dobové informace týkající se založení Polesí..
Po stopách dobových dokumentů jsem se vydal do Státního archívu v Děčíně, který spravuje archivní fondy Clam-Galassovského panství Lemberk. Nejstarší doklady sahají až do roku 1562 a pokrývají skoro 400 let do roku 1946. Fond obsahuje rovněž rynoltické gruntovní knihy z let 1563-1694, které fungovaly jako předchůdce dnešního pozemkového katastru a zapisovaly se do nich jak prodeje pozemků mezi jednotlivými poddanými lemberského panství (nejčastěji mezi otcem a synem), tak i koupě pozemků poddanými přímo od lemberské vrchnosti. Objednávám si tedy tyto gruntovní knihy a po nějaké době mi zaměstnanec archívu na vozíku přiváží papírovou krabici, která obsahuje dva velké a tlusté rukou psané svazky.. Otevírám více než 400 let starou knihu a luštím letopočty, abych se dobral roku 1683, kde doufám nalézt záznam o koupi prvního pozemku v Polesí. Komplikací studia starých dokumentů je, že jsou pochopitelně psány německy (a nejedná se věru o současnou spisovnou němčinu!), ale to by nebylo to nejhorší. Větší překážkou je ručně psané německé písmo, tak zvaný kurent, který nemá s naší psanou latinkou téměř nic společného. Navíc každý z postupně se měnících písařů měl svůj zvláštní osobitý styl psaní. Naštěstí letopočty jsou poměrně snadno rozeznatelné a tak téměř na konci první knihy docházím k roku 1683. Na jedné stránce pak rozeznávám datum 20.srpna a v záhlaví stránky luštím jméno Sebastion Finckhen a v tu chvíli je mi jasné, že držím v ruce skutečný zápis, který neklamně datuje právní akt, kterým došlo ke koupi prvního pozemku na území dnešního Polesí s cílem vybudovat zde dům…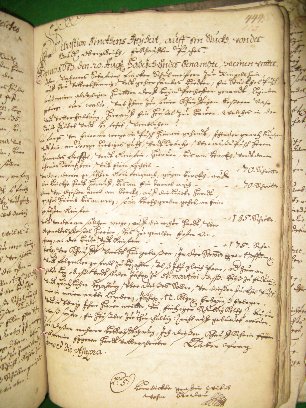 Kupní smlouva vymezuje rozměry pozemku a jeho umístění, ovšem takovým způsobem, že nám nikterak neusnadňuje identifikaci místa, kde se tento pozemek nacházel. Je totiž vymezen pomocí stromů, dávno zmizelých hraničních kamenů, potůčku. Zajímavé je, že se jednou stranou dotýká jakéhosi pozemku Jiřího Liebiga (George Liebig), snad se mohlo jednat o nějaký pozemek zasahující sem z Černé Louže, ale zrovna tak mohl být i na druhé straně od Rynoltic. Ostatně, ze zde uvedeného přepisu a překladu se můžete sami pokusit odhadnout, ke kterým místům se popis umístění pozemku vztahuje.
Domnívám se, že asi neobstojí romantická představa o tom, jak rynoltický kantor utekl před hněvem sousedů do lesů daleko od vesnice.  Ve smlouvě se hovoří o smolných pecích, ostatně celkově popis místa působí dojmem kulturní krajiny, plné hraničních kamenů. Na místě se nepochybně intenzivně lesnicky hospodařilo, fungovaly zde smolné pece a milíře, pravděpodobně byla větší část údolí už dávno odlesněná. Celkově to spíš než na nějaký útěk vypadá na cílené založení nové osady ze strany lemberské vrchnosti, která pro ně využila loajálního a osvědčeného poddaného. Ostatně o tomto záměru vypovídá i to, že ke stejnému dni byly prodány i  pozemky dalším třem poddaným z Rynoltic. Kromě toho od selského povstání uplynuly již dlouhé tři roky, po které patrně rynoltický kantor pobýval mezi svými sousedy. Kdoví, jak to s tou rebelií bylo!
Sebastian Finke koupil pozemek v Polesí za cenu 47 kop míšeňských grošů, což dělá 2820 míšeňských grošů. Zemědělské grunty v úrodných oblastech se v té době prodávaly za ceny více než desetinásobné, ale zde se jednalo o pozemek, který musel být zřejmě nejdřív zkulturněn a na kterém měl teprve být zbudován dům. Půda v Polesí je a vždy byla navíc velmi málo úrodná. Což bylo ovšem kompenzováno z našeho hlediska velkorysým třináctiletým splátkovým kalendářem..
Kupní smlouva je podepsána vdovou hraběnkou Benediktou z Bredy, která spravovala panství Lemberk za svého nezletilého syna Hartwiga Nicolase.
Historie Polesí sice není nikterak dlouhá, za chvíli oslavíme teprve 330 let, ale na druhou stranu není mnoho menších obcí, u kterých by se dal jejich vznik datovat s takovou přesností.