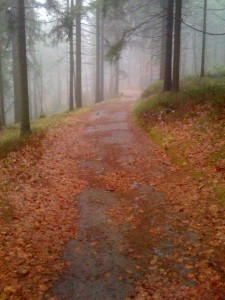 Uběhl zas nějaký čas a kolem lesní cesty pod Havranem se zdánlivě nic nového neděje.  Nicméně záležitost neusnula, nespouštíme jí z očí a připravujeme se na další kroky.
Nejprve pár postřehů přímo z místa pro ty, kteří neměli možnost se na místo v poslední době podívat.  Přesto, že bylo na místním jednání na začátku listopadu přislíbeno, že budou z cesty a okolních pozemků uklizeny zbytky po těžbě, zatím to na žádný velký úklid nevypadá. Na sousedních (soukromých) pozemcích jsou dál neprostupné záplavy větví a dalších zbytků po těžbě, místy až do vzdálenosti víc jak deset metrů daleko, takže se člověk hravě připadá jak v nějakém neprostupném pralese. Bohužel je to ale přímo v nivě potoka, kde by v případě takové povodně, jako proběhla loni, voda větve odnesla a ucpala s nimi mimo jiné třeba propust pod mostkem..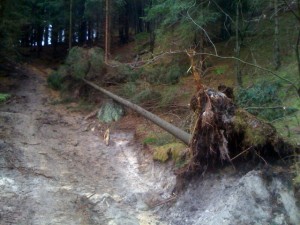 V místě, kde se cesta stáčí strmě na Černou Louži si bagrování vybralo svou daň, když vítr vyvrátil jeden částečně podhrabaný vzrostlý smrk. Naštěstí padl šikovně podél cesty, takže tato zůstává průchozí. Doufejme, že právě zuřící větrná bouře nad Severními Čechami nepřinese další ztráty…
Kromě toho někdo, zřejmě v dobré víře, přehradil dřevěnou zátarasou původní pěší cestu v místě, kde nově zbudovaná cesta vede nad ní na náspu, tak, aby si pěšáci v náspu vyšlapali cestičku a vyšplhali se na cestu… Není to právě ideální řešení ani pro pěší, o cyklistech nebo jezdcích na koních ani nemluvě. Tolik přímo z terénu.
Mezitím jsme dostali informaci od Ing. Besty ze Správy CHKO, že je dne 2.1. navštívila paní starostka s panem Dudou, odborným lesním správcem. Obec Rynoltice zadala u autorizovaného projektanta v oboru lesních cest vypracování projektu, který bude předložen v procesu dodatečného schvalování nepovolených terénních úprav. Projektant dostal zadání, aby se v průběhu prací na projektu obrátil na CHKO tak, aby mohl do projektu zapracovat připomínky orgánu ochrany přírody. Pan Besta doporučil paní starostce, aby k tomuto jednání obec přizvala i zástupce našeho občanského sdružení.
4.1. pak proběhlo jednání na stavebním úřadě v Hrádku, kterého se zúčastnili zástupci CHKO a ČIŽP (Inspektorátu životního prostředí). Zde jim vedoucí SÚ, pan Rada, potvrdil, že dle stanoviska stavebního úřadu jde o nepovolené terénní úpravy velkého rozsahu a že bude muset proběhnout řízení o dodatečném povolení úprav.
V prosinci jsme rovněž požádali ÚHÚL (Ústav pro hospodářskou úpravu lesů) v Brandýse nad Labem o pomoc s definováním úprav cesty, které by umožnily jednak její využití pro těžbu dřeva, jednak jí uvedly do stavu přijatelného jak esteticky, tak funkčně z hlediska pěších turistů, cyklistů a především místních obyvatel. Z jejich odpovědi citujeme:
Dobrý den.
Na základě Vašeho dotazu, který je uveden níže, se asi nebude jednat o rekultivaci, ale bude se jednat o opravu nebo rekonstrukci lesní cesty.
Bohužel zvyklosti stavebních úřadů jsou různé, proto ani naše odpověď nemůže být jednoznačná. Někdy pro provádění prací souvisejících s opravou cesty stačí ohlášení stavebnímu úřadu a někdy je zapotřebí stavební povolení. Celkem je podřadné, zda se jedná o cestu katastrovanou či nekatastrovanou (lesní cesty nemusí být vedeny v Katastru nemovitostí jako cesty). Stavební zákon pro tyto případy zřídil institut "územně plánovací informace", kdy je možné se ho zeptat, co bude pro daný typ činnosti zapotřebí. Stavební úřad pak ve své odpovědí musí uvést vše, co bude požadovat a následně již nic dalšího požadovat nemůže. A to se jedná o veškeré typy stavebních prací, ať již se dějí v CHKO nebo někde jinde. Podle charakteru prací, kdy se mění šířka cesty, bude potřeba zřejmě stavební povolení. Rozhodnutí stavební úřad vydá v klasickém správním řízení. OS se správního řízení může účastnit.
Ohledně konkrétních otázek týkajících se správního řízení bych Vás odkázal na některého z právníků. Je možné využít i služeb "Ekologického právního servisu", který Vám odpoví na Vaše otázky zdarma. Pokud dochází vlivem užívání lesní cesty ke škodám na životním prostředí, doporučuji obrátit se na příslušné pracovníky České inspekce životního prostředí. Ohledně technických parametrů lesních cest by bylo dobré se obrátit na projektanty lesnických inženýrských staveb.
Z firem, které mají zkušenosti s rekonstrukcí cest v CHKO a nebo v národních parcích, bych Vám doporučil firmu POPR, s.r.o.
Tato firma používá technologii "mechanicky zpevněného kameniva". Není nezbytně nutné za každou cenu zřizovat cesty se živičným povrchem. Technologie mechanicky zpevněného kameniva využívá materiálu, který již v cestě je a případně ho doplní o materiál z místních zdrojů. Ve ZCHÚ často pracovníci trvají na tom, aby materiál byl z místních zdrojů. Kamenivo se potom vozí z místních lomů nebo ho lze přímo sbírat v okolí cesty, pokud tam takový materiál je dostupný.
Technologie se skládá ze 4 fází. Nejprve se povrch stávající cesty rozruší těžkými branami asi do hloubky 15 – 20 cm. Po té se případně doplní chybějící kamenivo. Následně se materiál v celém profilu podrtí frézou. Kamenivo se rozbije na ostrohranné úlomky různých velikostí. Po té se radlicí upraví profil cesty. A na závěr se celý profil uhutní vibračními deskami. Pak je nutné nechat cestu nějaký čas uležet, je dobré pokud tzv. proprší, případně se kropí.  Ostrohranné úlomky tlakem do sebe zapadnou a vytvoří kompaktní vrstvu, která odvádí vodu mimo cestu. Někdy z důvodu prašnosti se povrch cesty uzavře živičným nátěrem, ale většinou se to v lese nedělá. Je to jedna z nejprogresivnějších technologií používaných u nás. Pochází z Francie, hojně ji užívají v Německu i v Rakousku.  Důležitá je cena. Náklady na rekonstrukci jsou ve srovnání s štěrkovou cestou 2,5* nižší než u cesty s živičným povrchem z obalovaného kameniva, 1,2 * nižší než u cesty s lehkou penetrací, a ještě až 0,5 levnější než klasická štěrková cesta.
Technologie umožňuje používat i recykláty, ale to asi v případě CHKO moc nepřichází v úvahu.
Tolik asi základní informace.
S pozdravem a přáním pěkného dne
Martin Polívka DiS., vedoucí OS Poradci
ÚHÚL Brandýs nad Labem, pobočka Hradec Králové
Technologie, kterou pan Polívka zmiňuje, je popsána na stránkách firmy POPR.  Zajímavé na ní je, že využívá místní materiál, který drtí na menší kousky a zpevní, tudíž vzniká pevná funkční cesta bez použití cizorodého a nepůvodního materiálu.
Kromě toho postupně shromažďujeme další náměty, které by měly sloužit jako naše požadavky, se kterými půjdeme na případné jednání s projektantem, nebo jako základ pro námitky OS jako účastníka řízení o dodatečném povolení terénních úprav.