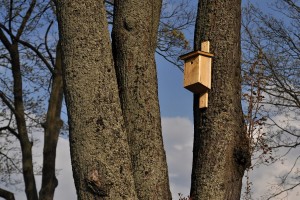 Ptačí budky zná každý a taky nějaké to krmítko najdeme skoro na každé zahradě. To ale nemusí být jediné úkryty, které můžeme pro rozličné druhy živočichů připravit. Možností, jak vytvořit pro volně žijící živočichy prostory pro přežití, je mnoho, většinou vyžadují jen trochu prostoru a práce a na oplátku nám pomohou oživit si své okolí přítomností různých druhů živočichů. Celá řada z nichž nám navíc pomáhá bojovat se škůdci či nepříjemným hmyzem. Přirozené úkryty navíc často z volné přírody beznadějně mizí a my tak můžeme alespoň trochu přispět k zachování druhové pestrosti živočišné říše v naší krajině.
Ptáci
Asi nelze začít ničím jiným, než tím nejklasičtějším, tedy úkryty pro ptáky. Pokud jde o budky, je dobré vědět, že každý ptačí druh má své specifické nároky. Záleží tedy na tom, který druh chcete podpořit nebo přilákat. Existují budky, polobudky, hnízdní podložky a jiné. Malého průvodce jednotlivými typy budek najdete zde.
Různé typy budek i s návody na vyvěšování a čištění najdete třeba na stránkách Lesů ČR.
Já jsem loni v zimě vyvěsil budky dvě, jednu pro sýce a jeden sýkorník přímo u domu. Sýkorník hned na jaře osídlil párek koňader a vyvedl zde mladé, budku pro sýce (byla u cesty v lese ve výšce 5 metrů) někdo ukradl…
Ptáky na naší zahradu pomůže přilákat také pítko, které snadno vyrobíme z ploché misky. To poslouží zrovna tak i včelám, motýlům a dalšímu hmyzu.
Netopýři
Netopýři jsou našimi jedinými predátory létajícího nočního hmyzu a pozoruhodné je, že některé druhy dokáží ulovit až 1200 komárů za hodinu… No jestli už jen tohle nestojí za to, aby se jim člověk trochu snažil vlichotit?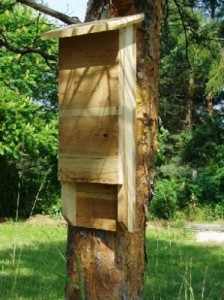 Budky pro netopýry se umisťují na stromy nebo na domy ve výšce 2,5 až 6 metrů nejlépe z jižní strany. Budka je podobná těm ptačím, ale její otvor je umístěn dole. Mohou být vysoké i široké (60 x 30 cm, 30 x 50 cm). Jsou užší, boční stěny mají 9 cm na šířku. V přední stěně je dole po celé šířce nechána 3 cm škvíra. Dřevené desky mají být 2 cm silné a ohoblované jen zvnějšku, vevnitř se netopýr musí za něco přichytit. Stříšku je možné udělat otevírací (zabezpečenou ohnutými hřebíky) pro snadnější čištění (pouze v zimních měsících!) a budku musíme nechat nenatřenou, jinak ji netopýr neobsadí. I tak to někdy trvá třeba dva i tři roky, než si zrovna tu vaší netopýr vybere. Údajně je možné je k rychlejšímu výběru motivovat netopýřím trusem…
Ježci
Velmi užitečným i sympatickým společníkem je i ježek. Bodlinatým krunýřem se ubrání každému nepříteli. Co je však nejdůležitější – během jediné noci dokáže spořádat stejné množství hmyzu a drobných plžů, jako sám váží. Tedy až kolem půl kilogramu!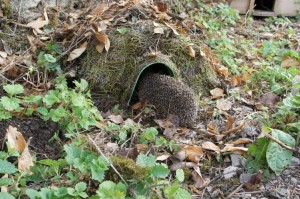 Ze současných zahrad už tito bodlinatí živočichové ale většinou zmizeli. Důvod je jednoduchý. Nakrátko střižený trávník a pár okrasných keřů jim neposkytuje dostatečný úkryt. Ten potřebují nejen pro odpočinek přes den (jsou to noční zvířáta), ale také pro klidný spánek v zimě.
Pokud chcete mít na zahradě biologickou rovnováhu, vytvořte svému ježkovi domov. Stačí nechat někde v koutku hromádku roští, starých větví nebo zpřístupnit kompost. Ještě větší radost mu uděláte, když mu postavíte ježčí budku. Ta může být dřevěná, proutěná nebo z plastu o rozměrech cca 30 x 30 x 40 cm.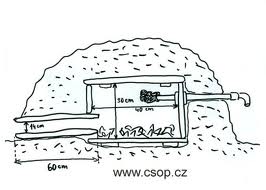 Do budky udělejte vchod, nejlépe ve formě dlouhého tunelu. Vchod umístěte směrem ze svahu, aby do "bytu" nezatékalo. Dutinu odvětrejte například vodovodní trubkou a vystelte ji suchým listím, senem nebo natrhanými novinami.. Budku zakopejte v hromadě hlíny, listí nebo slámy, aby byla v zimě dostatečně izolovaná. Úkryt je nejlépe umístit tam, kde je dostatek vegetace (pod keř či hromadu větví) a kde nezavazí a má dostatek soukromí (vzdálený kout zahrady, ne poblíž cesty).
Do nového bytu ježka nalákáte tak, že co nejblíže vchodu necháte přes noc kousky vařeného drůbežího masa. A nezapomeňte nechat v plotě kolem zahrady při zemi alespoň jeden otvor, aby se ježek dostal nejen k vám, ale také ven…
 Ještěrky
Azyl na vaší zahradě mohou najít i ještěrky a slepýši. Jako nejvhodnější úkryt se pro ně jeví nasucho vyskládané kamenné zídky či hromady z větších kamenů.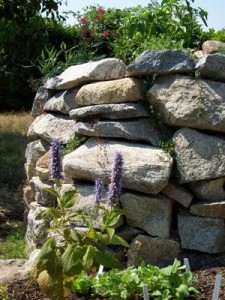 Zahrady na prosluněných svazích jsou z hlediska zadržení vláhy problémové, nicméně právě taková slunná místa jsou s oblibou vyhledávána ještěrkami a slepýši. Zbudováním teras, účinně zpevněných suchými zídkami, zabijeme tři mouchy jednou ranou. Zadržíme vodu, jež prospěje zeleninám či květinám pěstovaným v terasách, živočichům zajistíme úkryty, a rostlinám, zásluhou ještěrek a slepýšů, ochranu před škodlivým hmyzem.
Před zahájením stavby zídek se projdeme lesem nebo vlastní zahradou a nasbíráme do tašky ztrouchnivělé dřevo, jímž budeme vyplňovat štěrbiny a prohlubně mezi kameny. Ještěrky totiž kladou vajíčka do mělkých jamek, které zahrabávají. K tomu jim poslouží měkké ztrouchnivělé dřevo mezi kameny. Štěrbiny a prohlubně můžeme také trochu zasypat pískem, nemáme-li ztrouchnivělé dřevo. Hotové zídky je užitečné osázet kvetoucími skalničkami. Vhodné jsou lomikámen, badil, matřídouška, zakrslé hledíky, koulenka, protěž alpská, smil, hořec, netřesky aj.  Časem pak sami poznáme, na které rostliny létá nevíce výživných hmyzů, jímiž se ještěrky a slepýši živí. Odměnou za práci nám bude pohled na vyhřívající se ještěrky na kamenech!
 Další velkou skupinou živočichů, která si zaslouží naší pozornost, je hmyz. Vzhledem k počtu jeho druhů se mu ale budeme věnovat zase příště v samostatném příspěvku.