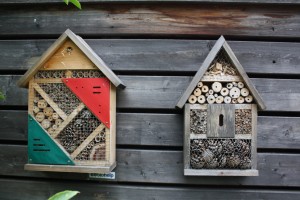 Samostatný článek bych chtěl věnovat hmyzu, různorodé skupině živočichů, která dle střízlivých odhadů zahrnuje na celém světě nejméně milión vědecky popsaných druhů. Možná namítnete, jaký smysl může mít vytváření příznivých podmínek právě pro život hmyzu, když je ho přece všude tolik. Ovšem hmyz má v přírodě svou nezastupitelnou roli a některé druhy se nám podporovat opravdu vyplatí!
První skupinou, která snad tyto pochybnosti ani nevzbuzuje, jsou opylovači. Bez nich bychom si mohli o úrodě ovoce či zahradě plné okrasných květin jen zdát.
Opylovači
Včely: Existuje několik druhů. Včela medonosná žije ve velice sofistikovaném společenství, naopak včela samotářka, která "nevyrábí" med, žije, jak už jméno napovídá, osamoceně. Aktivní jsou zpravidla od dubna do října.
Čmeláci: Až 2 cm velcí, žijí nejčastěji v zemi – v opuštěných myších dírách, ale také v ptačích hnízdech a nejrůznějších dutinách. Vylétávají v dubnu.
Motýli: Mnozí motýli jsou pilní opylovači, ovšem pozor, existují i výjimky – pohromou pro všechny zelináře je nechvalně proslulý bělásek zelný. Většina motýlů klade vajíčka na "plevele", jako jsou například bodláky a kopřivy, které následně představují potravu pro housenky.
Pestřenka pruhovaná: Měří 1 cm, má výraznou černožlutou "vosí" kresbu. Bleskurychle přelétává z místa na místo, ve vzduchu se dokáže zastavit. K vidění je od března do října.
Jakým způsobem do života této skupiny zasahuje člověk a jeho hospodaření si můžeme ukázat třeba na příkladu čmeláků. Čmeláci jsou zdatní opylovači i sběrači. Říká se, že na svých nohou unesou množství pylu představující polovinu jejich váhy.  Umí výborně opylovat i rostliny s dlouhými úzkými kalichy, do kterých včely nedosáhnou.  Na rozdíl od včel létají i za chladného počasí, kdy včely z úlů ani nevykouknou. Čmeláci jsou neútoční a dobráčtí.  Pobývají v pevných společenstvech, která jsou ale jednodušší, než společenství včel. Čmeláci žijí v jednoletých společen­stvech. Hnízda si budují buď na povrchu (v listí, trávě nebo mechu) nebo pod zemí (milují opuštěné myší díry). Některé druhy jsou méně přizpůsobivé, jiné více. Proto můžeme narazit na čmeláčí hnízdo i v ptačí budce nebo veverčím hnízdě, které už veverka nepoužívá.
Do života čmeláků stále více negativně zasahuje člověk. Pěstování monokultur přináší čmelákům ztrátu potravních zdrojů. Naše necitlivá snaha o kultivaci krajiny, ale i obliba sterilních krátce střižených anglických trávníků omezuje možnosti hnízdění a zimování čmeláčích matek, které bez vhodných úkrytů nemají šanci zimu přežít. Čmelákům také prokazatelně škodí používání chemických prostředků na polích i zahradách a zvláště na jaře dochází po aplikaci pesticidů k úhynu čmeláků.
Pokud jsme šťastnými majiteli alespoň pár metrů zahrady, můžeme poměrně snadno čmelákům v e vašem okolí pomoci a dokonce se pokusit je přilákat k hnízdění na vaší zahradě. Základem je pestrá směs rostlin a stromů, aby od jara do podzimu na zahradě něco kvetlo a čmeláci měli dostatek potravy. Proto by na naší zahradě měly kvést medonosné rostliny, včetně těch velmi časných. Nahrazení alespoň kousku trávy kvetoucí loukou, nejen barevně osvěží každou zahradu, ale čmeláci to také velmi uvítají. A pokud jí nebudete sekat celou najednou, ale postupně, čmeláky přímo nadchnete.
Pokud je dostatek potravy na zahradě, nebo v jejím okolí, zajištěn, je vhodný čas na instalaci domečku pro čmeláky nebo čmelína.
Ten si můžete při troše zručnosti vyrobit sami (návody na jeho výrobu najdete na internetu, třeba zde), nebo je možné si jej zakoupit. Na trhu jsou třeba čmelíny keramické s designem starých úlů, nebo dřevěné.
Kam čmelín umístit 
Čmeláci vyhledávají k hnízdění tepelně dobře izolované dutiny.  Potřebují totiž udržet ve svém hnízdě stabilní teplotu. Optimální místo pro umístění domku je tedy v polostínu, případně ve stínu pod listnatými stromy, které na jaře ještě nemají listí. Čmeláci jsou mnohem lépe schopni násadu zahřívat, než chladit. Proto úl nikdy neumisťujte na přímé slunce! Pokud stoupne teplota v úle přes 30°C, čmeláci musí čmelín usilovně větrat. Dělnice sedí u vletového otvoru a křídly dovnitř vhánějí vzduch.  Ostatní dělnice se pokouší chladit hnízdo uvnitř čmelína. Larvy i kukly hynou, pokud teplota v hnízdě přesáhne 35°C. Některé zdroje doporučuji umísťovat čmelíny tak, abychom zamezili kontaktu hnízda s mravenci, třeba na podstavec ze špalku natřený odpuzovačem mravenců (bez insekticidů!).
Ideální samozřejmě je postavit nový čmeláčí domov nejen do polostínu, ale také tam, kde mají čmeláci v okolí dostatek kvetoucích rostlin. Čmeláci milují například hluchavky, květy ovocných stromů a vrby. Je škoda času pokoušet se udržet čmeláky tam, kde by se neuživili, třeba na rozlehlém pozemku, kde roste jen krátce střižená tráva a thúje. Naopak místa, kde se čmeláci na jaře zdržují, jsou pro umístění domečků pro čmeláky velmi vhodná, ale pozor na přímé slunce!
Čím domek vyplnit
Dřevěný i keramický čmelín je nutno vyplnit do poloviny vhodným přírodním termoizolačním materiálem. Nesmíme však ucpat vletový otvor. Doporučuje se například mech nebo rozcupovaná krejčovská vata, ale i suchá nakrátko nastříhaná tráva, chlupy a podobný organický materiál. Neměli bychom používat syntetické materiály.  Čmeláci totiž výstelku při stavbě hnízda usilovně zpracovávají, trhají a žvýkají, což s umělými materiály moc nejde.  Při použití vaty může hrozit čmelákům zamotání do jejích vláken a úhyn.Vnitřek hnízda by měl dobře nasávat vlhkost. Občas se doporučuje do rohu domečku ještě umístit nádobku s vodou pro zvýšení vlhkosti. Hrozí však utopení malých čmeláků a proto raději nádobu vyplňme malými kamínky.
Jak čmeláky nejlépe nalákat do nového čmelína 
Zhruba v polovině dubna si samičky, které přezimovaly v zimních úkrytech, začínají hledat místo k založení hnízda. Pro obydlení čmelína čmeláky je potřeba, aby si jej jedna z hledajících samiček osídlila.
Nejpřirozenější cestou je čmelín samičce podstrčit do míst, kde samičky hledají vhodného místo k hnízdění a doufat, že si ho všimne a usídlí se v něm. Atraktivitu našeho čmelína  můžeme zvýšit položení mističky s náhražkou květního nektaru, kterou připravíme jako 50% roztok sacharózy. Pozor na hloubku misky a riziko utopení čmeláků.  Lze přidat i trošku medu (několik lžic na litr roztoku). Nic nezkazíme natřením tohoto roztoku na vletový otvor, případně na vršek čmelína.
Další užitečnou skupinou hmyzu jsou predátoři, kteří nám bez použití chemie pomáhají bojovat proti různým škůdcům.
Predátoři
Slunéčko sedmitečné: Červeně zbarvený drobný brouk s typickým počtem černých teček. Je to jeden z největších postrachů mšic, ale též svilušek a červců. Živí se jimi jak brouci, tak i larvy. Jedna larva dokáže zkonzumovat až 50 mšic denně. Larvy "berušek" vypadají dosti nevzhledně, nespleťte si je proto s některým ze škůdců. Jsou dlouhé, šedočerné s červenožlutými skvrnami po stranách, mají krátké černé nohy. Užitečné je rovněž slunéčko dvojtečné.
Zlatoočka obecná: Má hladké, štíhlé, 15 až 17 mm dlouhé tělo, velká průhledná křídla se zelenkavou žilnatinou. Tykadla jsou dlouhá a oči zlatozelené. Úspěšně likviduje listové mšice, štítenky a svilušky.
Larvy pestřenky hrušňové: Svítivě zelené "pijavky" požírají mšice. Larvy pestřenky pruhované: Kromě mšic zatočí i s larvami pilatek.
Střevlík zlatolesklý: 2 až 3 cm velký, kovově lesklý, zlatozelený brouk s vroubkovanými krovkami. Od dubna do srpna loví hmyz a plže.
Škvor obecný: V zahradě se vyskytuje od dubna do října, kdy se kromě rostlinné potravy živí i mšicemi.
Pavouci: Mnozí pavouci likvidují mšice, třásněnky a drobné plže.
Na zahradě jistě všichni uvítáme pomoc s likvidací škůdců , zvláště pokud nechceme používat chemii. Pomoci nám může celá řada živočichů, mezi nimi je nejpočetnější skupinou hmyz. Řadí se sem nejrůznější parazitické vosičky, lumci a lumčíci, jejichž larvy se živí jiným hmyzem, především různými housenkami.
Jednou z cest, jak přilákat hmyzí predátory a opylovače do zahrady, je připravit pro ně kvalitní ubytovnu.  Celá řada hmyzích druhů potřebuje v různých fázích svého života k bydlení různé formy mrtvého či tlejícího dřeva. To ale z našeho okolí často mizí, neboť ho lidé odklízejí z estetických i ekonomických důvodů. Ořezáváme staré větve z ovocných stromů, spalujeme vyvrácené stromy. Úbytek těchto přirozených hmyzích úkrytů můžeme nahradit domkem pro hmyz, který si snadno můžeme vyrobit. Jako základní materiál použijeme kusy dřeva s navrtanými otvory o různém průměru, dále nastříhané bezové větvičky, rákos, sláma, šišky, děrovaná cihla, zkrátka přírodní materiál s různě velkými otvory. Dospělí hmyzí predátoři uloví hmyz, zanesou ho do nachystané díry, nakladou k němu vajíčko, zalepí otvor a o víc se nestarají..

Takovýto hmyzí domek umístíme nejlépe na jižní stranu, kam svítí dlouho slunce a kam neprší. Komůrky nečistíme – domek bývá vytížen po celý rok. Nový host si uklidí sám.
Že je domek obsazen zjistíme podle toho, že jednotlivé otvory jsou zavíčkované.
Snadná je rovněž výroba domku pro škvory. I když na první pohled škvoři nepatří právě k oblíbeným živočichům, převládají v jejich potravě mšice, hmyzí vajíčka a roztoči a o jejich užitečnosti tedy není pochyb. Hliněný květináč vyplníme dřevní vatou nebo slámou a zavěsíme obráceně na kmen stromu a domek pro škvory je hotov..
Motýli 
Poslední samostatnou skupinou, kterou bych rád zmínil, jsou motýli. Sice již byli zmíněni v části o opylovačích, ale pro svou krásu a eleganci si rozhodně více slov zaslouží.
O tom, že motýlů z naší krajiny ubývá, se může člověk přesvědčit snadno na vlastní oči, i kdyby mu nebyly známy neutěšené výsledky přírodovědných výzkumů a studií. Mizí jak jednotlivé druhy, tak se rovněž snižuje počet jedinců těch několika málo druhů, které u nás ještě patří mezi relativně četné. Před sto lety u nás žilo 161 druhů denních motýlů, od té doby jich 18 vyhynulo a třetina zbývajících je ohrožena. Současně se viditelně snižuje i počet u těch druhů, které jsme ještě před deseti lety vídali běžně létat na loukách, zahradách i polích. Často uváděnou příčinou bývá chemizace zemědělství, ale rozhodně není příčinou jedinou, ba možná ani ne tou hlavní. Užívání umělých hnojiv ve skutečnosti v posledních dvaceti letech pokleslo, ale tempo, kterým motýli z naší krajiny mizí, se naopak ještě zrychlilo.
Další příčinu poodhalí srovnání situace na české a polské straně hranice. V obdobných klimatických podmínkách, se srovnatelným stupněm chemizace, jen pár kilometrů od sebe, je na polské straně možné napočítat jak větší počet motýlích druhů, tak i několikanásobně větší počet motýlích jedinců. Hlavní rozdíl působí struktura krajiny, kde na české straně převládají podstatně větší jednolité plochy polí. Dominují zde obrovské řepkové či kukuřičné "pouště", střídané lesy se smrkovou monokulturou a pastvinami, na kterých probíhá dotované "průmyslové" sekání. Nejen právě motýli, ale i většina dalších našich živočišných druhů potřebuje pro svůj život naopak prostředí, které se vyznačuje velkou proměnlivostí. Ideálním místem pro život motýlů bývají právě místa, kde se prolínají jednotlivé biotopy, například rozvolněné okraje lesů přecházející v keře a louky, remízky mezi poli, prosvětlené mýtiny v lese s putujícím stínem… Naopak intenzivní zemědělská a lesnická produkční krajina rozmanitosti opravdu nesvědčí.
Právě v této oblasti se ukazuje význam i těch nejmenších zásahů do krajiny. Zahrady a parky se tak mohou stát útočištěm těch živočichů, kteří byli intenzivním hospodařením vytlačeni z krajiny. V případě motýlů můžeme udělat lecos a vůbec to není těžké. Můžeme nechat kus trávníku neposekaného a nebo část pozemku přeměnit na louku, která je na rozdíl od monotónního krátce střiženého trávníku pro živočichy daleko atraktivnější. Nemusí jít přitom o žádnou velkou plochu, stačí třeba 20-30 metrů čtverečních. Někde v koutě zahrady můžeme nechat růst pár kopřiv, nasypat hromadu kamenů. Na ní pak můžeme postavit keramickou misku s vodou, která bude sloužit jako pítko.
Chceme-li přilákat motýly na svou zahradu, můžeme zde vysadit nějakou rostlinu, kterou tento hmyz miluje. Jednou z těch opravdu osvědčených je tak zvaný motýlí keř, neboli Komule Davidova.
​Dekorativní keř Komule Davidova (Buddleia davidii)  pochází z Číny a evropské zahrady zdobí něco přes sto let. Zjara se keř obalí tmavozelenými listy, vonné a nápadné květenství se pak objevuje v červenci. Až 50 cm dlouhé klasy květů skoro ihned přilákají roje motýlů, kteří v jeho blízkosti setrvávají až do září, kdy keř pomalu odkvétá. Komule Davidova je pro motýly natolik přitažlivá, že je možné na ní občas pozorovat i vzácné a unikátní druhy motýlů, které vůně přiláká i z velké dálky.

Keř obsypaný motýly je na letní zahradě opravdu velkolepá podívaná – proto mu vyberte viditelné místo. Nejlépe někde na dohled lehátka nebo křesla, odkud budete moci rej motýlů pohodlně sledovat.
Protože je motýlí keř světlomilný, zvolte stanoviště na přímém slunci, kam se přes den dostanou paprsky na maximální možnou dobu. Potřebuje také chráněné místo (v zimě by mohl namrzat) a humózní propustnou půdu. Motýlí keř doroste do výšky 2,5 až 3 metry a bude poměrně rozložitý, proto při umisťování počítejte se stanovištěm velkým asi 1,5 metru v průměru. Kolem by mělo být volné místo, aby keř zasazený jako solitér optimálně vynikl. Motýlí keř snese radikálnější jarní řez (provádí se zejména, když keř začal méně kvést), ale lze také po odkvětu jen sestříhat uschlá květenství s proschlými konci větviček. Motýlí keř kvete na letorostech, tedy na nových mladých výhonech, které vyrostly téhož roku na jaře.