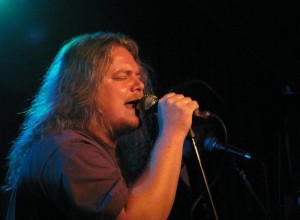 Na Honzu Neandera si vzpomínám, stejně jako na většinu dětí mých kamarádů,  tak trochu jako na své dítě a myslím, že to funguje i naopak, radostné i smutné chvilky jsme prožívali spolu..
Je pár okamžiků, na které nezapomenu.
Jednou o Velikonocích, byly mu asi čtyři roky, se naučil nekonečnou koledu, kterou udivil celou vesnici. Pyšně domů přitáhl koš vajec, za který by se nemuselo stydět ani tucet koledníků dohromady. Každý mu rád dával další a další vajíčka, Honza pokaždé vydržel přeříkat všech těch asi patnáct strof a byl na to právem pyšný. Byl hvězdou a věděl to.
O deset let později jsem ho potkal brzy ráno, seděl na rozhledně a psal básničky o Polesí.
Otevřel se mi tehdy, několik mi jich přeříkal. Nebylo to vůbec špatné, řekl jsem mu to.
Vím, že později zpíval s kapelou, stal se rockerem, byla to městská poetika metra (ve smyslu underground), ostatně každý si může zadat jeho jméno do vyhledávače a poslechnout si je.
Hudební parníky měly své početné obecenstvo, které dokázalo zaplnit i pražskou Lucernu.
Ještě o jednom setkání bych se rád zmínil. Pomáhal mi tehdy organizovat  tiskovou konferenci, kterou jsme chtěli uspořádat na vltavském parníku, jednalo se o protipovodňová opatření Prahy. Navštívil jsem ho v jeho kanceláři, svoji práci manažéra lodní dopravy prováděl  bez zbytečných komplikací, s lehkostí a přesností, optimálně,  nápaditě a naprosto profesionálně. I tady byl hvězdou.
Šel svojí cestou, která mu měla, podle všech předpokladů a zákonů logiky, přinést v příštích letech úspěch v kategoriích, které považoval za důležité. V jistém smyslu dítě štěstěny. To se týkalo i syna a dalšího očekávaného přírůstku do rodiny, na který se právem těšil.
A pak ta nečekaná hrůza. Jakási sepse.
To všechno jsem si připomněl, když jsme včera s jeho i mými kamarády do černa zaplnili motolské krematorium, poslouchali rock v záplavě kytek a tušili, že jeho parník dnes pluje na nebi docela nízko.
Petr Zázvorka, 29. března 2012