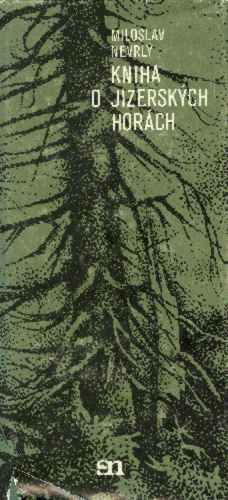 Když se loni začalo poprvé mluvit o zvýšení daně z přidané hodnoty na knihy, ozývaly se protichůdné hlasy. Někteří tvrdili, že knihy jsou zboží jako každé jiné a na rozdíl třeba od základních potravin se v případě nouze bez nich člověk docela dobře obejde. Ovšem druzí namítali, že opravdu dobrá kniha má jednu vlastnost, kterou bychom u ostatního zboží jen obtížně hledali. Existují totiž knihy, které mají tu moc změnit náš život…
Dlouho před tím, než jsem poprvé zavítal do Polesí, ze všech stran obklopeného lužickohorskými  lesy, trávil jsem už od raného dětství každoročně několik letních týdnů uprostřed lesů a hor pohoří sousedního, Jizerských hor. Nejprve jen na březích říčky Bílé Desné, ale postupně jsem se vydával dál a dál a objevoval stále další horské vesničky, hluboké smrkové a bukové lesy, vrcholy se žulovými skalisky a všudypřítomnou vodu, ať už ve formě potoků či rašelinišť. Postupně jsem si Jizerky zamiloval tak, že jsem celý dlouhý školní rok žil v toužebném očekávání letních dnů, kdy se do nich opět budu moct vrátit.
V té době jsem byl odkázán na to poznávat je pouze svými smysly. Jediným dostupným studijním materiálem pro mě byla turistická mapa v měřítku 1:100 000, nevynikající navíc žádnými velkými detaily.  Jako zjevení tak na mě tehdy zapůsobilo, když se mi někdy kolem roku 1983 dostala do rukou Kniha o Jizerských horách Miroslava Nevrlého. Najednou jsem mohl čerpat z nepřeberného množství informací, pokrývajících svým neuvěřitelně širokým záběrem snad všechny oblasti, na které by člověk v souvislosti s Jizerskými horami mohl pomyslet.
Možná vám přijdou má slova obdivu ke knize, zabývající se regionální historií a současností jedné oblasti Čech, přehnaná. Ale v té době šlo o knihu svou formou, rozsahem, ale i jazykem zcela ojedinělou. Neexistovala žádná taková druhá. Kniha, která v sobě dokázala skloubit jemně poetická zamyšlení s fundovanými historickými a přírodovědnými exkurzy do nejrozmanitějších oblastí. Kniha, která povzbudila všechny milovníky těchto hor a která horám získala veliké množství nových.
Již forma knihy je velmi neobvyklá. Miroslav Nevrlý jí v prvním vydání z roku 1972 rozčlenil do dvanácti kapitol, nazvaných po jednotlivých měsících. Poetický úvod ke každé kapitole je vystřídán trojicí převážně věcných, konkrétních a do minulosti Jizerských hor se obracejících oddílů, nazvaných Příběhy a pověsti, Pomníčky a Vyprávění. Ve druhém vydání z roku 1980 pak každou z kapitol doplnil ještě o jeden oddíl, do kterých zapracoval obrovské množství informací, podrobností a námětů, které se mu po prvním vydání knihy sešlo od čtenářů. Pro představu o záběru knihy uvádím názvy jen několika z celkových 48 oddílů:
O staré jizerskohorské turistice
O jizerskohorských lupičích
Zelený svět rašelin
O dřevěných chalupách
O zázračných studánkách a léčivých pramenech
O skleněných horách
O pohádkových bytostech
Smrt dívky Annelore
O starých myslivcích
Smrt nejslavnějšího pytláka
O dávných jménech
O zimních poutnících
O netopýřím podzemí
O horách za zemskou hranicí
O starých cestách
O divokých povoznících
Čihařství
Září, měsíc jeleního řevu
Přesto, že by tomu některé názvy mohly napovídat, nejedná se o žádné volně fabulované báje a pověsti. Ač vyprávěny vytříbeným literárním jazykem, všechny příběhy a vyprávění jsou podloženy fakty, shromážděnými během dlouholetého studia rozmanitých původních pramenů.
Miroslav Nevrlý se narodil v roce 1933 v Praze a po studiu přírodovědecké fakulty UK přišel v roce 1959 do Liberec, kde začal pracovat jako zoolog v Severočeském muzeu. "V muzeu byla spousta německých knížek a nesrovnaných vlastivěd, časopisů a kronik. Začal jsem je třídit. Jako přírodovědec jsem navíc rád chodil do hor. Zkoušel jsem tam hledat to, o čem jsem se dočetl v těch materiálech, a naopak – co jsem našel v horách, snažil jsem se dohledat v publikacích. Trvalo to asi patnáct let. Protože jsem vystudoval systematickou zoologii, nedalo mi to a vytvářel jsem si přitom takovou kartotéku. Ta se mi pak hodila," vypráví o své práci v muzeu Miroslav Nevrlý. Když ho pak tehdejší ředitel Severočeského nakladatelství vyzval, aby tyto své regionální znalosti zpracoval do knižní formy, pustil se do práce na Knize o Jizerských horách. Jako mimořádně šťastné se pak ukázalo jeho dodatečné rozhodnutí zahrnout do knihy i oddíly o pomníčcích. Možná především díky nim se z knihy stala skutečně kultovní záležitost.
V době, kdy byly lesy Jizerských hor těžce zkoušeny exhalacemi z hnědouhelných elektráren v NDR a Polsku, chodily po horách party nadšenců, které vybaveny popisy z Nevrlého knihy hledaly po lesích a mezi skalisky staré pomníčky. Právě díky této knize se z toho stala srdeční záležitost mnoha lidí, která po revoluci vyústila například i v založení spolku Patron, který se hledání a především obnově a údržbě starých pomníčků věnuje.
Jizerské hory mají totiž tu zvláštnost, že v tamních lesích vzniklo a většinou se i v lepším či horším stavu zachovalo několik stovek starých pomníčků, připomínajících většinou různá neštěstí či úmrtí. Šlo o střetnutí pytláků s myslivci, dřevařská neštěstí, přepadení či zranění. Některé byly naopak postaveny jako poděkování za záchranu zdraví a života. Snad nikde jinde v Čechách se nezachovala taková koncentrace těchto drobných památek. Navíc především díku Miroslavu Nevrlému známe u většiny z nich historii, která vedla k jejich vzniku..
Dnes již je možné získat obsáhlé informace o jizerskohorských pomníčcích na internetu (např. web Josefa Stoklasy, stránky sdružení Patron,  web Michala Haufera, Martínkovy stránky), ale v sedmdesátých a osmdesátých letech o pomníčcích, ztracených kdesi v lesích, už téměř nikdo nic nevěděl. Většina původních obyvatel byla odsunuta a s nimi i historie tohoto kraje. Miroslav Nevrlý se díky svému vyprávění o pomníčcích a okolnostech jejich vzniku zasloužil o to, že se našlo dost lidí, kteří na tuto již zdánlivě zaniklou historii navázali. Mimořádným počinem bylo i to, že do druhého vydání ze začátku 80.let zahrnul i mapu, ve které byly pomníčky zaznamenány. Na tehdejší dobu detailní měřítko 1:50.000 pokrývající celou oblast Jizerských hor posloužilo nejen hledačům pomníčků, ale i turistům a ostatním milovníkům hor. Přesto, že se nepodařil původní záměr využít ještě detailnějších základních map a že vzhledem k blízkosti hranic byly i turistické mapy záměrně "znepřesněny", i tak jsme si na podobně podrobné a zajímavé mapy jiných pohoří museli ještě deset let počkat..
Kromě nadšenců a hledačů pomníčků Kniha o Jizerských horách ovlivnila i stovky a tisíce dalších milovníků Jizerských hor. I pro regionální spisovatele a nadšence z jiných oblastí se stala velkou inspirací a vzorem, ke kterému se hrdě hlásí. Myslím, že z nám místně blízkých třeba na tvorbě spisovatelů Marka Řeháčka či Karla Steina je vliv této knihy zřejmý na první pohled.
Na Knize o Jizerských horách bylo mimořádné i to, že nehledě na dobu vzniku Miroslav Nevrlý dokázal napsat text, který nebyl v ničem poplatný své době. V knize zcela absentují povinné "dobové" vsuvky, které jinak nacházíme i ve většině odborných publikací z nejrůznějších oborů. Nevrlý píše o historii kraje, o lidech, kteří ho utvářeli a kteří ve své drtivé většině mluvili německým jazykem. Nezdůrazňuje to, vyvarovává se dobových klišé a tvrzení, prostě o nich píše jako o lidech, kteří sem patřili.
Hned od okamžiku, kdy jsme jí poprvé přečetl, na mě Kniha o Jizerských horách nezapomenutelně zapůsobila. Snad tím, jak se v ní snoubí poetika s realismem, snad svým "renesančním" záběrem. Od té doby neuplyne rok, abych jí nevzal do ruky a nepřečetl si tu a tam nějakou kapitolu…
Květen – měsíc probuzení

     Konečně přišel do Jizerských hor znovu blažený čas: jejich lesy medově voní. Cítím tu vůni každé jaro. Stačí jen vyhlédnout z okna a zavětřit k lesům. Začínají za mým domem a táhnou se bez přerušení, hluboké a daleké, desítky kilometrů k severovýchodu. Nejsou jednotvárné a duše okřívá, kdykoli do nich vstoupím. Nahoře na jizerských pláních plují tou jarní dobou nad rašeliništi ještě perlové mraky a v nehnutých vodách se rozpouští poslední sníh: jediný poryv větru dosud stačí obnovit vládu zimu.
Kde je ale tou dobou sníh ve starých bukových lesích na Hemmrichu! Safírová obloha tam prosvítá mezi skalami a nejkrásnější zeleň pokryla za jediný den a noc větve hladkých šedých buků. Nestojí v Čechách druhé takové bučiny jako v kamenitých svazích Jizerských hor! Tam vládne v květnu pravé medové jaro. Těžko je v tu dobu vydržet doma: je nutno slyšet zpěv lejsků malých z korun buků. K večeru pak stoupám po vlahém dni k lovecké chatě pod Poledníkem. Opírá se o skálu a když ji spatřím, jsem rád, jako bych potkal blízkého člověka: zdá se, že starý dub zima dosud nezkrušila. Jen suchého myšího trusu v něm přibylo a nádherných vlhkých vůní. Noční vzduch je čerstvý a jako šipky v něm nad stromy létají lesní sluky. Vítr utichá a nad nočními horami leží mír. Přesto cítím jarní neklid: daleko je ještě tiché podzimní spočinutí, kdy stačí samota a světlo svíčky.
Když se druhý den za slunce výcodu rozhlížím z Poledníku, lesy Jizerských hor se probouzejí od obzoru k obzoru. Zvedá se v nich lahodný jitřní vítr, předzvěst dobrého dne. Pohlížím upřeně na ten lesnatý a hornatý kraj.
Dlouho stojím na staré měřičské věži nad lesy a jsem sám, daleko široko sám. Mohu proto radostí zpívat: že znovu přišel do hor blažený čas putování. Lesy voní jarem a celým příštím požehnaným rokem.
Kdykoli se tak z jara probouzím a vydávám se na cesty do Jizerských hor, napadnou mě slova starého severského básníka a tuláka z jeho Poslední radosti:
"Odešel jsem do lesů. Ne že bych byl něčím uražen, také mne neranila zloba lidská; ale nepřijdou-li lesy ke mně, musím jiti k nim. Tak se to má."