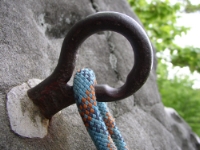 Po diskusi u koupaliště okolo nadpočetné jámy na strom padlo několik povzdechů nad tím, že obsahová náplň stránek je dílem pouhých dvou článkovců, a že je třeba článkovat a diskutovat. Chytám se tedy za nos a načínám nové téma, a doufám, že se téma chytí a že se vzpomínky dnešních mladodůchodců podnikajících dobrodružné kousky na okolních skalinách někdy na přelomu padesátých a šedesátých let ocitnou na papíře (či na obrazovce) dříve než se ztratí v mlze zapomnění. Legendy tvrdí, že dokonce existuje filmový záznam z roku zhruba 1957 (?) výstupu několika ztřeštěných teenagerů na Fellerovu věž.
Ale k věci: Díl první a – Obrvégry a Krkavčí skály
Polesí se nachází na okraji české křídové pánve, a tak jsou (skoro) všechny zajímavé skalní útvary tvořeny pískovcem. Tato hornina vznikl v období svrchní křídy, pro zapálené zájemce o geologii nastíníme jen hesla cenoman, turon a koniak. Pískovec při svém větrání vytváří velmi chudé a neúrodné půdy, zlé jazyky tvrdí, že v Polesí zahrádkářům nezbývá než pěstovat borovice, ale na druhou stranu dodává krajině měkkost a malebnost pro jiné horniny nevídanou.
V okolí Polesí není žádné klasické a vyhlášené skalní město typu Prachovských skal nebo Adršpachu s hektarovými parkovišti, kiosky, megalomanskými autokempy se srazy motorkářů, Amálčinými vyhlídkami a Rytířskými slujemi, desetitisíci výletníků a zafekálenými bočními roklemi, a možná anebo spíš určitě je to dobře. Zato je okolí bohaté na hojné osamělé balvany, skalky a skupinky skal.
V prvním díle se budeme věnovat dvěma místním nejvyhlášenějším oblastem z hlediska horolezectví, a to Horním a Krkavčím skalám, ke kterým dojdeme z Polesí za něco okolo třičtvrtěhodinky volné chůze severovýchodním směrem, místní znalci chodí lesem, méně orientačně zdatní podél silnice směrem na Hrádek nad Nisou.
Začněme polohou a jmény: původní předněmecká jména už asi nikdo nevypátrá, možná, že žádná slovanská nebo keltská jména nikdy nebyla, ale kdo ví. Horní skály leží asi půl kilometru západně od nejvyššího bodu silnice na Horním Sedle a jsou od nepaměti známy jako Oberwegsteine, česky pak Horní skály, ale známější a rozšířenější je mazlivý název Obrvégry. U Krkavčích skal (od horních skal necelý kilometr západně) je situace složitější, Němci si vystačí s jednoduchým Rabensteine, nám se tam motá jmen více, skály jsou v různých mapách a bedekrech Havraní, Vraní i Krkavčí, a protože každý druhý kámen v přilehlých lesích má jméno po nějakém opeřeném dravci (a Nevermore Havran je ve skutečnosti Krkavec a vůbec jsou v tom zmatky), tak se mezi horolezci pro jednoznačnost nejvíce asi říká, že se jde lézt na Fellerovky.
Horní skály jsou tvořeny skupinou osmi věží, jména věží jsou Cvičná, Smrtka, Malá Smrtka, Gahlerova věž, Dvojče, Liberecká věž, Sokol a Zub, skály stojí v mírném jižním svahu vrchu Hřebeny ve výšce asi 500 metrů nad mořem a tvoří řadu od východu k západu. Geologicky jsou pokračováním Suchých skal a Pantheonu v Českém ráji, kdy byly starší původně vodorovné vrstvy pískovce na Lužickém zlomu přesmyknuty přes pískovce mladší do téměř svislé polohy.
Krkavčí skály jsou tvořeny dvěma řadami věží, které jsou od sebe odděleny hlubokou rozsedlinou od severovýchodu k jihozápadu, která vznikla částečně uměle, kdy byla v dávných časech hornina s obsahem železivců odtěžena coby chudá železná ruda. V horní řadě se věže jmenují  od severovýchodu Malá Hruška, Hruška, Východní a západní Šachtová věž (ošklivé názvy snad připomínající uhlířskou éru Hrádecka, mám radši neoficiální Nesympatická a Orlí hnízdo), Krkavčí hnízdo, v dolní řadě Fellerova věž a Krkavec. Terén pod skalami je pak o trošku méně kinderfreundlich. Na předskalí Šachtových věží vyleze i méně odvážný turista a výhledy do Císařského údolí směrem na Popovu skálu a do Žitavské pánve stojí za to.  Vrchol Západní Šachtové věže je 499 metrů nad mořem.
První doložené zprávy o horolezectví jsou již z 27. června 1891, kdy Willy Kahl a H. Scholze zdolali oba vrcholy Šachtových věží, ale nedá se s jistotou tvrdit, že byli první – obě věže jsou poměrně snadno dostupné a dnes je bez problémů zdolávají zdatnější předškoláci.
Z obtížněji vylezitelných skal pak byla jako první "pokořena" (fuj, to je ošklivé slovo) nejznámější, nejkrásnější a nejvýznamnější věž východních Lužických hor, a to Fellerova věž Krkavčích skal. Ovšem styl výstupu byl z dnešního pohledu ostudný, 17. června 1894 tři pánové, Theodor Feller, Adolf Gahler a Ferdinand Siegmund po mnoha pokusech přehodili přes vrchol lano, po něm snad vytáhli jakýsi primitivní provazový žebřík a stanuli na vrcholu. Výstup vedl dnešní Honzovou variantou Ginzelovy cesty a Šachtovou stěnou – tedy přes balkon v západním hřebeni.
Opravdové horolezectví přinesli do kraje až Karl Kirchhof na jaře 1904 a Rudolf Kauschka o pár měsíců později, zvláště druhý jmenovaný zaslouží naši pozornost. Byl vynikajícím a všestranným sportovcem, reprezentoval postupně tři státy v jízdě na saních, byl mistrem Evropy v na prvním mistrovství roce 1914 za Rakousko-Uhersko, v roce 1928 získal druhé místo pro Československo, naposledy se zúčastnil mistrovství Evropy za Německo jako osmašedesátiletý (!) v roce 1951 a ostudou to rozhodně neskončilo. Byl jedním z prvních lyžařů v na Liberecku, neobyčejně zdatným turistou (například 12 výstupů na Ještěd od Libereckého nádraží a zpět za 24 hodin, z Liberce na Sněžku a zpět nonstop za noc a den), podnikal významné horolezecké prvovýstupy v Jizerských horách, Českém ráji (Kauškova spára na Dračí zub ve Skaláku je stále pojem) a Lužických horách, zdolal mnohé významné alpské výstupy, třeba sólo a bez lana vylezl všechny tři věže Vaiolettürme v Dolomitech ve skupině Rosengarten za jeden den (i dnes nezanedbatelný výkon), samozřejmě nechybí Mont Blanc ani Matterhorn klasickými cestami. Byl obětavým spolkařem a organizátorem, nadšeným propagátorem přírody a obstojným básníkem. Jeho kniha Wandern und Klettern z roku 1923 je prý neobyčejně romantická (moje znalost němčiny je bohužel příliš nedokonalá pro opravdový prožitek z četby). Není to horolezecký průvodce čili férman (dle saského horolezce Rudolfa Fehrmanna, autora prvního průvodce po skalách Českosaského Švýcarska, slovo férman následně proniklo do slangu divadelníků pro označení programu čili průvodce dějem divadla či opery) v pravém slova smyslu, je to vyprávění o turistice a horolezectví a nakonec několik básní.
Do konce prvního desetiletí dvacátého století byly zdolány všechny věže, a to logickými a krásnými směry, s jedinou výjimkou, a tou je Hruška, kdy kdosi neznámý vysekal na oblém bříšku pod vrcholem věže několik umělých stupů – ovšem i s jejich použitím se jedná o výstup náročný na sílu, techniku i odvahu (zde bych prosil o historku starých zbrojnošů o nedbalém jištění a pádu do koruny břízy někdy v polovině šedesátých let).

Druhá významná objevitelská éra přišla na přelomu padesátých a šedesátých let, kdy skály několikrát navštívili liberečtí Josef Čihula a Miroslav Machovič a potom kompletaci logických linií prvovýstupů dokončila hrádecká parta okolo bratří Zárybnických. Posledním významným boomem prvovýstupů pak byl přelom osmdesátých a devadesátých let, kdy parta okolo Petra "Špeka" Slaniny téměř doslova kobercově vyčerpala i poslední volné směry jakékoli obtížnosti. Dnes už je najít místo pro prvovýstup prakticky nemožné (za posledních deset let vznikly celkem dva a byly asi fakt poslední).
Obrvégry a Krkavčí skály nabízejí širokou paletu horolezeckých výstupů od jedničkových normálek na Šachtové věže (vyleze zdatný turista bez strachu z výšek), hojnost krásných a dlouhých cest od třetího stupně obtížnosti (to znamená dostupné pro začátečníka pod vedením někoho zkušenějšího), klasické šestky-sedmičky (úroveň dnešního pohodáře čili softmovera), klasické těžké "sedmy s písmenkem" (reálně o jeden dva stupně obtížnosti těžší, pro zdatné a zavilé lezce) po několik cest atakujících či jemně přesahujících desátý stupeň obtížnosti (a tam je by se počet jedinců schopných přelézt dal spočítat na prstech). Nejkrásnější cesty z kategorie "pro lidi" čili jakési místní top twelve vedou na Smrtku (Normální cesta III, Jižní cesta IV, Přímá Jižní cesta VII, Kristina spára IV), Libereckou věž (Normální cesta IV, Hřebenovka VI, Stínová spára VII, Břízová VIIb), Fellerovu věž (Šachtová hrana IV, Via gaudia V), Gahlerovu věž (Stará cesta V) a nakonec na Dvojče cesta Přepad VI, kdy je trápení v solivé spodní části odměněno nádherným a vzdušným překrokem z vedlejšího vrcholu do stěny vrcholu hlavního.
Část Kauschkovy knihy Wandern und Klettern věnovaná Obrvégrům

Literatura:
–         Rudolf Kauschka, Wandern und Klettern, Liberec 1923
–         Rudolf Pilát, cvičné skály a horolezectví v Československu, Klub alpistů Československých, Praha 1938
–         Miroslav Jedlička, Pískovcové skalní oblasti v Čechách, sportovní a turistické nakladatelství, Praha 1961
–         Vladimír Slouka a kol., Pískovcové skály v Čechách, díl 2 – severní Čechy, Olympia Praha 1980
–         Kletterführer Lužické hory ČSSR, Deutscher Verbrand für Wandern, Bergsteigen un Orientierunglauf der DDR, samizdat německy 1988
–         Michael Bellmann, Kletterführer Nordliches Böhmen, Dresden 2003
–         Klub horolezců Hrádek, Lužické hory, Hrádek nad Nisou 2006
Kauschku, piláta a jedličku v jakémkoli stavu koupím za jakoukoli rozumnou cenu, ale moc šanci necítím. Takže kdyby snad někdo měl doma, prášilo se mu na to a nevěděl co s tím…
Lukáš Bludský
Odkazy: