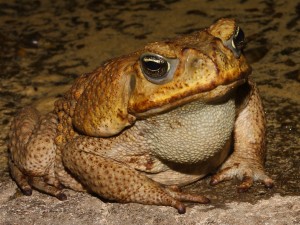 Voda v nádrži v centru Polesí, díky podzimnímu vyčištění a poměrně příznivému počasí, se přes občasné výtoky barevných skvrn na povrchu, které opouštějí přítokovou rouru potoka, udržuje v poměrně slušné kvalitě. Kromě koupání tak poskytuje  voda životní prostředí velkému počtu obojživelníků, v našich podmínkách chráněných, takže naše činnost, kterou je mimo jiné snaha o uchování čisté vody v nádrži, zde má silnou zákonnou podporu a každému, kdo vypouští do přítoku nečištěnou odpadní vodu, ať již s ftaláty z pracích prostředků, nebo odpadní vodu septiků, hrozí pokuta.
Příroda, jak se zdá, zatím přežívá a občas vrátí, například povodní, nešetrné  zacházení i s úroky ve smyslu božích mlýnů, jaksi z druhé strany, levým hákem, řeklo by se, i bez zásahu kontrolora a jinak potřebných důkazů.
Ale zpět k nádrži a jejím obyvatelům: v nádrži převažují dva druhy pulců: menší, černí, ze kterých se následně vyvinou malé ropušky, kterých je letos opravdu hodně. Po někdy problematickém opuštění kolmých břehů koupaliště nabírají opačný směr svého putování, směrem do zahrad a lesa, kde obývají místa pod kameny, pískové jámy, houští, na zahradě různá skrytá místa, přístavky, dřevníky. Ropucha obecná se živí se hmyzem, červy, pavouky, slimáky, tedy činností více než užitečnou.
Dalším druhem pulců, kteří se zde objevili v posledních třech letech, jsou ti obrovští, průhlední,  dosahující velikosti 8,5 – 18 cm, (byl objeven pulec velikosti 22,6 cm), ze kterých se posléze vyvine blatnice skvrnitá, kupodivu poměrně malá žába (samci 4 – 6 cm, samice 5 – 7 cm), s podobnými vlastnostmi, jaké známe u ropuchy. Mimo rozmnožování je tato žabka nezávislá na vodním prostředí.
Stále ještě se v nádrži vyskytují čolci obecní, štíhlí ocasatí obojživelníci s hladkou, sametovou, občas též slabě zrnitou pokožkou. Sameček je barevnější, na břiše načervenalý, samice žlutohnědá. U tohoto druhu, stejně jako u dříve poměrně i v Polesí častého, barevnějšího čolka horského, se projevuje neotenie, pohlavní dozrávání larev.  Dokonce jsme tu viděli i mloka skvrnitého, leskle  černého ocasatého obojživelníka s širokou hlavou a žloutkově žlutými až oranžovými skvrnami. V lesních loužích také nalezneme často skokana hnědého, který však k nám, na náves, zavítá jen málokdy a občas ho nalezneme snad na alpince.  Tam je také poměrně velké množství ještěrek, většinou  je to ještěrka obecná (krátkonohá, s tlustou hlavou, světle hnědým hřbetem a tmavým středním proužkem a bílohnědými až tmavohnědými skvrnami, které jsou podélně uspořádané) nebo ještěrka živorodá (světlehnědá až tmavohnědá) ještěrka s poněkud kratšíma nohama než předchozí, které živorodost pomáhá překonat i chladnější životní prostředí. K nim se řadí rovněž slepýš křehký, beznohá ještěrka s hladkými šupinami, rovněž živorodá, která v nebezpečí dokáže odhodit svůj ocas, který mrskáním mnohdy zmate útočníka a umožní slepýšovi uniknout.
Pokud jsme u obyvatel koupaliště a jeho okolí, často zde pobývá užovka obojková, nejedovatý, většinou šedý nebo načernalý plaz, který mi dokonale vyčistil rybníček na zahradě od larev komárů, ale i od pulců a čolků. Spíš v lese, ale několikrát i na zahradě v bezprostřední blízkosti koupaliště jsme narazili na jedovatou zmiji obecnou (samec většinou šedý, samice hnědá, oba s tmavou klikatou čárou na hřbetě), lovící převážně myši, ale i žáby a ptáky, která ovšem prchá, pokud na ni zrovna nešlápnete, již daleko dříve, než ji stačíte zaregistrovat.  Nad vodou můžete vidět v horkých dnech dost vážek a šídel, motýlů sice ubylo, ale kromě těch klasických, jako je poměrně častá babočka admirál, babočka paví oko, babočka bodláková, babočka kopřivová, otakárci, žluťásci, přiletěl i batolec duhový (tmavohnědá základní barva samce se pod určitým úhlem mění v nádhernou třpytivou modř). Téměř zmizeli modrásci, zato jestli je nějakého druhu opravdu  množství kalamitní, jsou to slimáci a hlemýždi a to již několikátý rok.
Již proto bychom si měli těch pulců  a ropuch vážit a v případě hlemýžďů, na které se přes ulitu málokterý lovec dostane, jim pomoct udržet v přírodě rovnováhu.
Petr Zázvorka