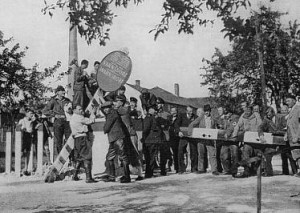 Před časem jsem se na stránkách obce Mařenice dočetl o knize Proměněná země, zachycující okolí Mařenic v období těsně před druhou světovou válkou, v jejím průběhu a přibližně i rok po válce. Od knihy jsem si původně příliš nesliboval, vyšla v padesátých letech, takže se dala předpokládat obvyklá klišé o věrolomných českých Němcích, o zradě Západu, o hrdinném komunistickém odboji a podobně, ale vzhledem k tomu, že se oblast Lužických hor nezapsala do literatury zrovna často, nechtěl jsem jí opomenout. Už po několika prvních stránkách se ale ukázalo, že jde o knihu z mnoha hledisek překvapivou a to nejen vzhledem k době jejího vzniku. Proto bych se s Vámi rád podělil o pár postřehů a dojmů, kterým se její čtenář rozhodně neubrání.
S každou další stránkou, kterou čtenář přečte, si nemůže nepovšimnout zvláštnosti, že děj se skutečně odehrává v prostředí výhradně národnostně německém, tedy mezi mařenickými Němci, z nichž se rekrutují hlavní i vedlejší postavy, ať už kladné či záporné. Češi vlastně v první třetině knihy, odehrávající se před obsazením Sudet a vypuknutím války, vůbec nevystupují! Jejich přítomnost se omezuje na anonymní vojáky československé armády, obsazující pohraniční opevnění, pozorované očima místních Němců.
Čtenáři se před očima odvíjejí překotné události roku 1938, nahlížené z pozic místního německého obyvatelstva. To ve své naprosté většině podlehlo svodům národního socialismu (tedy především jeho mužská část), ale toto třeštění nezasáhlo všechny. U někoho hrála roli politická orientace, sociální demokraté a komunisté ještě představovali značnou sílu, byť se již většinou netroufali nahlas projevovat nesouhlas. Ale bylo i dost těch, kteří prostě nestáli o žádnou konfrontaci a báli se hrozící války. Sedláci a chalupníci, obávající se o svůj skromný a namáhavě obhospodařovaný majetek, ženy, ve strachu o životy svých blízkých, starší lidé, kteří zažili předchozí válku. Ale nic naplat, těch, kteří už měli dost panování Čechů, bylo mnohonásobně víc. A taky byli víc slyšet!
Právě díky naprosté absenci českého živlu vynikne o to víc absurdita, s jakou si místní Němci na českou nadvládu stěžují. V obci a okolí, kde úřady, školy i církev, vše bylo v německých rukách, a kde se vlastně řada obyvatel s Čechy prakticky nikdy nesetkala, panuje pocit, že další setrvání v republice je k nevydržení nesnesitelné, že je třeba konečně se osvobodit a setřást české poručnictví…
Tu dobu jsem nezažil, pochopitelně nevím, jaké to bylo doopravdy (a navíc co člověk, to individuální vnímání situace), ale při čtení o předválečných náladách a postojích se nemůžu zbavit dojmu, že to takhle nějak opravdu mohlo být. Zkrátka vyznívá to velmi realisticky, autor nikomu nestraní, nehodnotí postoje ani německýma, ani českýma očima (ostatně žádné české postavy v této části ani nejsou).  Nezastírá, že většina Němců byla na straně národního socialismu, ale z jeho vyprávění nečiší nenávist vůči nim. Ostatně i jejich motivy byly různé, od oportunismu, prospěchářství, stádnosti či skutečné nenávisti a fanatismu. Ale i u těch skutečně záporných postav cítíme, že možná stačilo jen málo a jejich život se mohl upírat úplně jiným směrem.
První třetina knihy je tak její jednoznačně nejsilnější částí, sondou do života tehdejší společnosti malé podhorské vesnice, ovlivněného zpoza hranic silou, jejímuž vlivu nemohla (a nechtěla) vzdorovat. To vše okořeněné spoustou slov a vět z místního dialektu a četnými místopisnými detaily. Ostatně, jako podklad sloužila místní kronika z těchto let.
Zbytek knihy, zachycující válku a první poválečné měsíce, se mi již zdál trochu slabší (ovšem ve srovnání s první částí) a v závěru přece jen poplatnější době vzniku knihy.
Zajímavostí z této doby z okolí Mařenic, o které se ovšem v knize nepíše,  je, že se v místních lesích a skalních úkrytech údajně skrývali účastníci odbojové skupiny Waltro, a to jak Češi a Rusové, tak i Němci.
Původně jsem se kvůli dokonalým popisům prostředí domníval, že spisovatel pocházel přímo z oblasti Mařenic, že zde tuto dobu prožil, ale František R. Kraus se ve skutečnosti narodil v Praze v německy mluvící židovské rodině, za první republiky pracoval v německých novinách jako Prager Tagblatt či Prager Presse, přátelil se s  Maxem Brodem, Franzem Kafkou ,Karlem Čapkem, Jaroslavem Haškem, Janem Masarykem, ale i například s Albertem Einsteinem. Jeho literárním vzorem, rodinným přítelem a životním učitelem byl "zuřivý reportér" Egon Erwin Kisch, ovšem vzhledem k tomu, že Kisch byl komunistou, zatímco Kraus přesvědčený sociální demokrat, se po převratu v roce 1948 názorově i osobně rozešli. Za války Kraus prošel terezínským ghettem a řadou koncentračních táborů, včetně Osvětimi, ale podařilo se mu přežít. Po komunistickém převratu byl pro změnu vyhozen z ČTK a Rozhlasu…
Proměněná země je zajímavým a v mnohém i překvapivým náhledem na myšlení a postoje německého obyvatelstva Lužických hor v letech těsně před druhou světovou válkou. Překvapivé je i to, že v roce 1957 vůbec podobná kniha vyšla… Pokud by toto krátké vyprávění v někom z Vás vzbudilo zájem a knihu jste si chtěli přečíst, rád Vám jí zapůjčím.