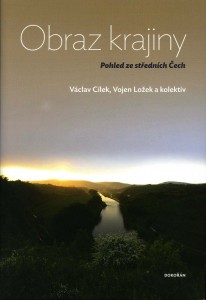 Původně jsem nechtěl unavovat delší recenzí zajímavé knihy, která popisuje především krajinu středních Čech a na jejím obsahu se podílí kromě známého geologa a komentátora české krajiny Václava Cílka ještě Vojen Ložek a kolektiv autorů.
Zajímavý příspěvek Aleše Krupy Drobné intervence v krajině – drobné památky, mne ale vyprovokoval – zdá se mi, že obsah knihy s naším společným snažením zachovat atmosféru obce ladí dohromady, tak se omlouvám, že je moje informace je poněkud obsáhlejší.
Nejprve pár citací z uvedené knihy, která má ambici se stát krajinným slabikářem a platí obecně..
Například: "Co je krajina? Krajina je obrazem lidí, kteří ji obývají."
Hezké ne?
Nebo: "Krajina je tekutá mozaika omezených možností – má středy, uzlové body, ohniska (jako v městě náměstí) – rozhraní či hranice (les – pole)), spojnice (koridory, jako ve městě ulice) – a volné plochy."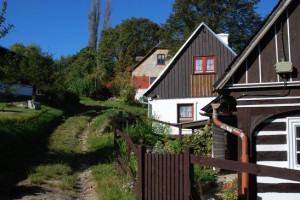 Dá se to aplikovat na obec jako je Polesí nebo Rynoltice, ale třeba i na jejich části, například na známou cestu v polích mezi nimi kolem křížků až k samoobsluze.
Na téhle cestě vidíme tři patra krajiny, tedy také vertikální  členění obrazu – což odpovídá definici, že "česká krajina připomíná schodiště" – v našem případě v pozadí Ještěd a Hvozd, blíž je les, střechy rynoltických domů, plocha polí, s akcentem Božích muk a detailem kresby na nich.
V Čechách se krajina mění každých dvacet či třicet kilometrů (v okolí Polesí, díky pahorkům Lužických hor daleko dřív), na rozdíl od stepi nebo prérie. Tohle dohromady by mělo být v harmonii. A pokud jde o tu cestu, tak až na "objízdnou dálnici" kolem Polesí to dosud tak v podstatě bylo.
Ještě dvě citace: "Příroda má svoje dějiny, které jsou systémem zkušeností. Příroda je památka, která má budoucnost. Památné stromy a kameny jsou ohnisky krásy, doby a paměti krajiny."
A konečně: "Staré cesty v sobě propojují přirozený reliéf krajiny, péči o tažná zvířata a běžný, praktický život se symbolismem trudné i milostné cesty člověka celým jeho životem. " 
Rád bych zdůraznil, že tahle cesta mezi Rynolticemi a Polesím potvrzuje v mém případě alespoň pětašedesát let trvající reminiscenci na každodenní putování do školy a zpátky, na kterou se prostě nedá zapomenout. Myslím že Pepík Machatý, Honza Janata, holky Chladovy, Utina Haverlndtová, Jirka Poupa a ti další, kteří jsme se scházeli ráno v půl osmé u zvoničky to potvrdí.
A teď úplně jinak:
Nejpromyšlenější návrh, jak uchovat  sídelní obraz, což je vlastně krajinný ráz vztažený k intravilánu sídla, je podle knihy Rakouský zákon o sídelním obrazu .
Text tohoto zákona je v plném znění zveřejněn zde . Jeho aplikace stojí i v našich podmínkách za uvážení. Zákon brání estetické kontaminaci a podle autorů ho je možné přijmout v zjednodušené formě místní vyhlášky tam, kde záleží na turistice nebo si občané přejí žít v pěkném prostředí.
Zde je několik výňatků:
Sídelní obraz představuje podstatná svědectví kulturního cítění a tradice nejen jednotlivého sídla, ale i celého regionu…., Tyto hodnoty jsou však podrobovány dynamice a v důsledku  bezpočtu vlivů podléhají rychlým změnám. Krátkodeché módní trendy v plánování a v architektuře bez uvážení tradičních kořenů vedly k povážlivé zkáze dochovaných kulturních pokladů a k uniformitě sídelního obrazu … Cílem ochrany…. má být záruka harmonického vývoje obrazu sídla, který bude v souladu s jeho kulturní minulostí…
Teprve uvědoměním minulosti, přítomnosti a budoucnosti se může obraz sídla vyvinout takovým způsobem, aby i v budoucnu mohl být považován za kulturní výraz obyvatel sídla, regionu, země a společnosti.
Definice: Sídelní obraz ve smyslu tohoto zákona je charakteristické vzezření sídla nebo části sídla, nezávisle na tom, zda se pozorování děje z pohledového bodu uvnitř nebo vně sídla.
Cíl zákona: je zachování a péče o stávající stavební strukturu a stavební fond, zachování nezastavěných pozemkových ploch ve způsobu a formách určujících vzezření sídla nebo sídelní části, jakož i zamezení újmám charakteristickým pohledům v obraze sídla (silueta sídla) a utváření sídla nebo sídelní části včetně zapojování nových staveb do obrazu sídla.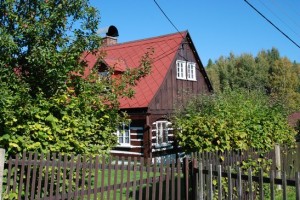 Kdo odpovídá za sídelní obraz: Ochrana a utváření sídelního obrazu ve smyslu tohoto zákona je úkolem obce. Každý jednotlivec, který chce stavět, musí brát v úvahu ochranu tohoto obrazu a s obcí se poradit.
Chráněná zóna: Obec může sídla a sídelní část, jejíž obraz je hoden zvláštní ochrany nařízením prohlásit za chráněné zóny. Do chráněné zóny mohou být pojaty pozemky spoluvytvářející sídelní obraz…
Jak to udělat: Plán pozemků, spadajících do chráněné zóny musí být vystaven po dobu šesti týdnů na obecním úřadě k veřejnému nahlížení. Každý je oprávněn uvést  podněty nebo námitky, které musí být spolu s návrhem výnosu předloženy obecní radě…..jako podklad k sestavení konceptu sídelního obrazu založí obec vedení evidence stavebního fondu budov  v chráněné zóně a provede analýzu sídelního obrazu. Evidence stavebního fondu bude průběžně doplňována. Koncept sídelního obrazu má obsahovat zejména cílové představy:
■ o stavebních památkách, určujících sídelní obraz, jako stavební hmoty, proporce a šířky, tvar střechy, sklon střechy, střešní krytina, fasáda, barva,utváření dvorů a rozsah reklam a informačních tabulí.
■ o památkových, nezastavěných pozemkových plochách, jako je poloha zelených a rekreačních ploch, utváření dopravních ploch, přípustnost skladování a jiného užití, ovlivňujících sídelní obraz. Koncept sídelního obrazu nesmí být  v rozporu s ustanoveními plánu využití ploch a zastavovacího plánu…
Zachování sídelního obrazu: Vlastníci staveb v chráněných zónách mají zachovávat a pečovat o jejich vzhled.  Ke stavbám náleží zvláště také oplocení, studna, plastiky, stojany, osvětlovací tělesa, dláždění a ostatní povrchová upevnění. Nezastavěné plochy mají být svými vlastníky zachovány a udržovány tak, aby nebyly  újmou sídelního obrazu.
Změna sídelního obrazu: Udělení stavebního povolení je nepřípustné, pokud obnova stavby je možná a hospodářsky únosná a pokud veřejné zájmy nepřevažují nad zájmem na ochraně sídelního obrazu. Jinak hrozí odstranění stavby.
Místní obchůzka: Obec je po sestavení konceptu sídelního obrazu v časovém odstupu max. 5 let povinna provést obchůzku, k níž přizve komisi sídelního obrazu. ( Ta určí, do jaké míry bylo dosaženo cíle, eventuálně prošetří, jestli a jak byl obraz změněn, může vyvodit sankce).
Pohledové zóny: Obec může k zamezení újmy charakteristickým pohledům nebo charakteristickým siluetám sídel nebo sídelních částí nařízením prohlásit určitá území za pohledové zóny.V pohledových zónách smí být vydáno stavební povolení jen tehdy, jestliže stavební zařízení nebude na újmu charakteristického pohledu nebo charakteristické siluety místa.
Komise sídelního obrazu: Je určena pro jednotlivé kraje. Jejím úkolem je pomáhat obcím v záležitostech sídelního obrazu, případně jeho utváření. Je složena ze stálých a nestálých členů. Stálými členy jsou: pracovník vyššího služebního stupně  příslušné  zemské vlády Rakouské republiky nebo vědecké služby jako předseda, zástupce inženýrské komory, odborník navržený spolkovým památkovým úřadem pro obor péče o sídelní obrazy, urbanismus a architekturu. Nestálými členy jsou starosta nebo zástupce obce a další odborníci na ekologii a ochranu přírody a krajiny.
Finanční podpora: Předmětem podpory jsou vícenáklady, které vznikají vlastníkům, při respektování podmínek zachování obrazu krajiny. Kraj hradí obcím náklady až do 30% nákladů, maximálně 55% finančně slabým obcím.
Trestní ustanovení: Přestupku se dopouští vlastníci, kteří bez povolení provádějí úpravy,nebo tyto úpravy jsou v rozporu s povolením. Vybrané pokuty jdou k dobru té obce,na jejímž území byl přestupek spáchán, a to na účel zachování sídelního obrazu a tvorby tohoto obrazu.
Je pochopitelné, že zvláště cenná území, například Chráněné krajinné oblasti, nebo území Národních parků, by měla i u nás podléhat uvedeným požadavkům na ochranu sídelního obrazu, i když je bohužel na rozdíl od bohatého Rakouska, kde platí zákon obecně, naše realita zcela jiná. Povzdechnutí je na místě, dodržování uvedených pravidel se snad dožijí alespoň naši potomci, pokud budou mít co ještě chránit. Tolik k zajímavé publikaci, kterou vydalo v roce 2011 nakladatelství Dokořán.
Ještě jedna poznámka k smutnému osudu Tobiášovy borovice – nezasadíme tedy na její místo borovici novou? Možná bychom se toho mohli ujmout, nedovedu si představit, že  tam nebude. Ostatně, možná, že bychom mohli nový strom opatřit i tabulí, která by historii borovice, jejíž kmen údajně zachránil kolem roku 1800 při potyčce se zloději dřeva obchodníka Tobiáše Kunze z Dolního Sedla (prý mu pouze kulka prostřelila klobouk a on z vděčnosti nenechal strom při těžbě podetnout) a kde v roce 1938 došlo (patrně k jediné přestřelce kde tekla krev) mezi skupinou příslušníků  Stráže Obrany Státu (SOS)  a ordnery ze Saska.
Petr Zázvorka