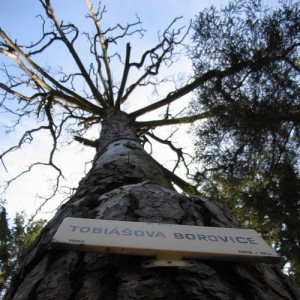 Na sklonku loňského roku zaznamenaly Lužické hory a s nimi i všichni jejich milovníci další ztrátu. Více než dvě stě let se turisté, lesníci a dávní pašeráci orientovali v lesích nedaleko saských hranic pomocí charakteristické siluety Tobiášovy borovice. Posledních deset let již byla tato mohutná borovice odumřelá, ale její suché torzo dále sloužilo nejen jako důležitý (a krásný) orientační bod, ale i jako domov četných ptáků a hmyzu. V prosinci 2012 Lesy ČR z bezpečnostních důvodů tuto borovici pokácely. Z profesionálního i bezpečnostního hlediska řešení asi nevyhnutelné, ale stejně se člověk neubrání pocitu jistého ochuzení…
Vlasta Novotná zaslala zodpovědnému člověku z Lesů ČR dotazy, týkající se nejen pokácené borovice. Tyto otázky a rovněž odpověď pana Půlpána z LČR nám poskytla ke zveřejnění:
Vážený pane,

dovoluji si Vám položit 2 otázky ve věci ochrany lesa a přírody v polesí pravděpodobně Petrovickém na rozmezí okresů Liberec a Česká Lípa. Našla jsem Vaši elektronickou adresu s tím, že máte ochranu přírody v náplni, tak to zkouším. Pokud tato záležitost nespadá do Vašeho ranku, prosím přepošlete ji na správnou adresu.

První otázka se týká pokácení Tobiášovy borovice (případná fotodokumentace k dispozici). Je tam vysvětlení, ale domnívám se, že tam mohla stát jako ošetřené a snad i oplocené torzo.

Byl to suchý, ale krásný kmen. Vím, že je to nevratné, ale bylo to opravdu nutné? A komu přijde padlý kmen? Kousek dál za hranicemi v NSR jsme léta chodili kolem asi 3 metrového torza buku přímo u velmi frekventované cesty. Vloni se torzo rozpadlo a stále tam leží jako památka věkovitosti.

Druhá otázka se týká toho, že z rozcestí v sedle mezi Liščí horou a Loupežnickým vrchem zmizel kamenný stolec –  hraniční kámen. Byl tam trochu stranou, trochu v kapradí, myslím, že o něm mnoho lidí ani nevědělo. Vždycky jsem si jej šla pohladit. Zvláštní je, že zmizel poté, co se v těch místech těžilo pomocí výkonných harvestorů a vyvážeček. Není možné, že byl kámen vyvezen spolu se dřevem?

Vím, že je to všechno marné, ale v lese jsou další krásné třistaleté hraniční kameny a nádherné staré stromy.  Víme o krásných unikátních stromech a když tam jdeme, máme strach, že už tam nebudou.

Děkuji za pozornost, kterou budete daným otázkám věnovat a za případnou odpověď.

S pozdravem Vlasta Novotná

Vážená paní,

k pokácení torza tzv. Tobiášovy borovice došlo z důvodu bezpečnosti návštěvníků lesa pohybujících se po turistické stezce. Při stáří torza cca 10 let po uschnutí již totiž došlo k rozvoji hniloby natolik, že nebylo možné zajistit stabilitu torza kmene a hrozil jeho nenadálý pád – hnilobné procesy pokračují průběžně a není tedy možné určit ani pověstnou kapku, kterou přeteče džbán, tj. k pádu může dojít i za bezvětří, přičemž směr pádu lze rovněž jen odhadovat podle směru náklonu, avšak nikoli stoprocentně zaručit, neboť v takovýchto případech může dojít i ke ztočení kmene na méně vyhnilé části a pádu i jiným než předpokládaným směrem. K pádu pak obvykle dochází bez charakteristického praskání a tudíž reakce případného návštěvníka na situaci (i kdyby dával zcela pozor) je prakticky vyloučena.

Váha torza by pak při pádu i na dospělého člověka s největší pravděpodobností měla smrtelný dopad. Jsme proto přesvědčeni, že včasné pokácení torza borovice, jeho ponechání na místě na památku této borovice a vysazení nové borovice pro budoucí generace je nejlepším řešením.

Jen pro zajímavost uvádím, že po pokácení jsme na základě orientačního přepočítání letokruhů dospěli k závěru, že borovice byla o cca 100 let mladší, než měla dle pověsti být, a tudíž před cca 160 lety již zřejmě k jejímu nahrazení mladší borovicí jednou došlo.

Co se týče kamenného stolce – hraničního kamene, pokud došlo k jeho zmizení, nemá to spojitost s těžebními pracemi v místě – Lesy České republiky v žádném případě jakoukoliv manipulaci s ním neobjednávaly ani neiniciovaly a o jeho osudu nám není nic známo. Cena i provoz harvestoru je poměrně nákladná záležitost a pokud by došlo při manipulaci s jiným materiálem než se dřevem k jeho poškození, byly by opravy k tíži obslužného personálu. Nepředpokládáme proto ani, že by se jednalo o nežádoucí aktivitu zaměstnanců dodavatelské firmy bez vědomí Lesů České republiky.

Závěrem mi dovolte popřát Vám vše nejlepší v novém roce, hodně zdraví, klidu a pohody, třeba i při pobytu v lese ve správě Lesů České republiky.

S pozdravem

Ing. Ladislav Půlpán
vedoucí odboru lesního hospodářství a ochrany přírody
T: +420 495 860 252, M: +420 724 524 030, E: pulpan@lesycr.cz
Jak vypadá situace na místě, můžete posoudit sami z fotografií, které poslal Jindřich Bludský: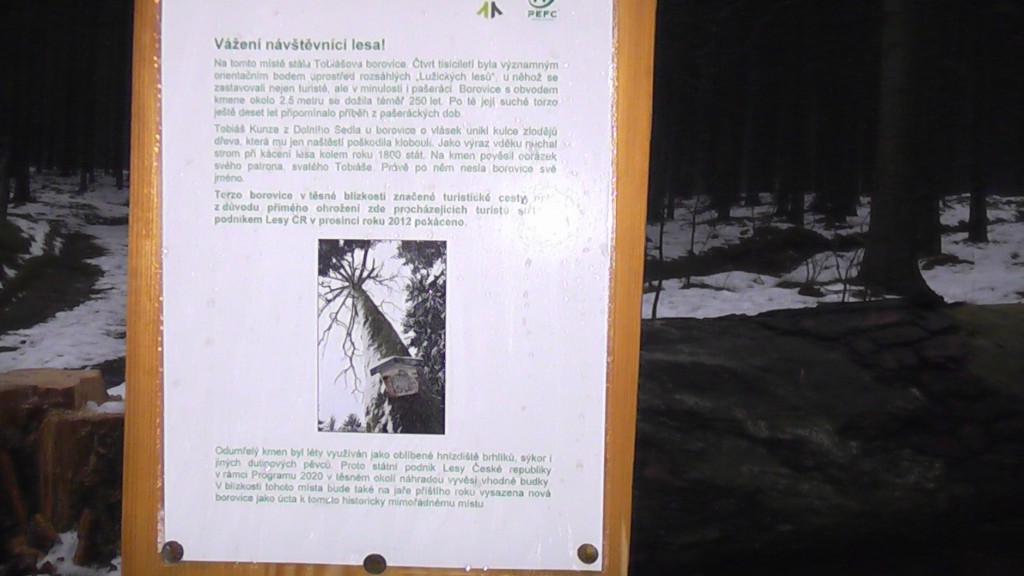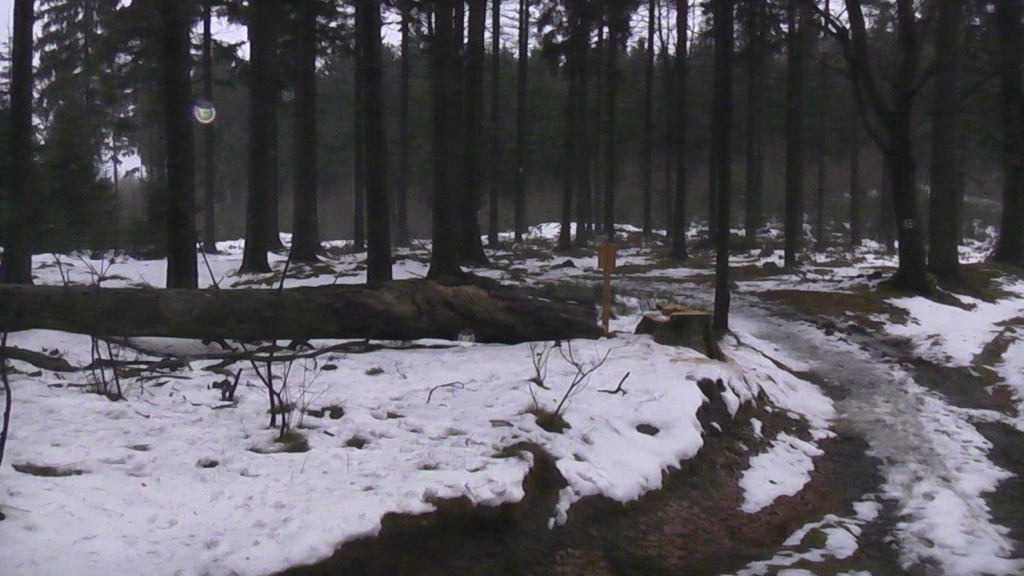 Za informaci, příspěvky a fotografie děkuji Vlastě a Ladislavovi Novotným a Jindřichu Bludskému.