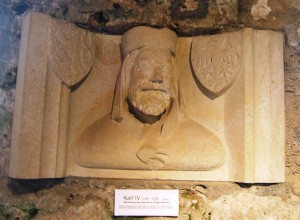 Oslavy 700. výročí narození Karla IV. (1316 – 1378)  svědčí o současné  mediální  popularitě panovníka jako rozvážného projektanta a vizionáře, kterému  často přálo štěstí a vycházely mu šikovné politické kalkuly. Jeho dynastické sny se sice v mnohém nevyplnily, ale stopy po jeho aktivitách jsou patrné dodnes i v blízkém okolí.
Rozsah stavební činnosti, kterou inicioval již v období své markraběcí vlády, dosáhl takového měřítka, že ještě dnes máme nemalý počet unikátních reliktů vyspělé gotiky v Čechách, na Moravě i  v zemích České koruny. Vraťme se k našemu bezprostřednímu okolí, kraji Lužických hor v době jeho vlády. Je to doba, kdy díky rozvážné státní politice, kam patřilo především rozšíření území pomocí nákupů, dědických zisků i sňatků, patřila pod českou korunu nejen Horní Lužice (od roku 1329 s městy Kamenz /Kamenec, Bautzen /Budyšín, Löbau/ Lobava nebo Görlitz/ Zhořelec), Dolní Lužice (od roku 1368, s městem Cottbus (Chotěbuz), ale i Braniborsko (1373 – 1415, s městy Branderburg an der Havel, Potsdam i Berlin)  a také Slezsko s Wroclaví (Vratislav), Svídnicko (od roku 1353), Javorsko (1368) na západě Ašsko (1331),  Donínsko, Chebsko a Horní Falc (Nové Čechy, Neuböhmen), na východě vzdálené Plocké knížectví (1329 – 1351) a ovšem Lucembursko s hlavním městem Luxembourg, řada měst (např. Lucca a Monte Carlo) i množství zakoupených hradů mimo vlastní stát, zejména při cestě do Itálie nebo do spřátelené Francie (aby panovník vždy nocoval na svém území).
Je pochopitelné, že základním kritériem řízení této evropské mocnosti byla kromě obrany vnějších hranic především nezbytná péče o dodržování zákonů a vytváření sítě cest spojujících důležitá centra, s jejichž rozšiřováním a vylepšováním souviselo rovněž vyrovnávání kulturních odlišností jednotlivých částí říše. V období vlády císaře Karla bylo obnoveno nebo vybudováno přes 60 hradů, z okolí jmenujme například rozšíření  a posílení obrany na hradech Grabštejn, Lemberk, Vartemberk, vybudování Roimundu nebo Raimundu (1346 – 1347 na hřebenu Vápenného, jehož jméno je spojováno s jménem krále ) nebo Rálska (Roll, Rollberg, přestavěný  z již dříve založeného dřevěného hradu v roce 1377 Janem z Vartenberka na hrad kamenný) jako součást soustavy hradů střežících důležitou státní cestu a poskytujících kupeckým karavanám rovněž ozbrojený doprovod přes nebezpečné úseky.
Byla to doba, kdy se Lužické hory nacházely v téměř geometrickém středu říše ve směru sever – jih a kdy bylo proto nezbytně nutné zlepšit dopravní spojení přes tuto poměrně pustou, zalesněnou a v předešlém  (i v následujícím) období okrajovou část Čech. U Žitavy, která tehdy patřila k Čechám, postavil purkrabí na Bezdězu, Oldřich Tista  z Libštejna (Ulrich Tissta von Liebstein) v roce 1357 pro Karla IV. unikátní celní hrad Karlsfried, neboli Nový Hrad.
Jednalo se o hrad se systémem dvou rovnoběžných zdí přehrazujících údolí, mezi kterými musela kupecká karavana projít a nechat se celně odbavit, než jí bylo umožněno pokračovat dál. Hrad, nacházející se v úseku Lužické cesty mezi Oybinem a Žitavou  císař zastavil roku 1360 Žitavě, v období husitských válek byl nedostatečně bráněný a víceméně již vzhledem k politické situaci nefunkční obranný systém stržen, jeho pozůstatky a zbytky zdí jsou však dosud patrné.
Pro pozvednutí kulturní úrovně kraje založil Karel IV. v nedalekém Oybině (Ojvín) klášter celestinů – poustevníků, které poznal v Itálii,  a povolal jeho příslušníky do Čech v březnu  1369. Vystavěl zde na skalním ostrohu zprvu císařský dům (v roce 1364) a později  klášter (1366-1369)  s nádherným gotickým chrámem, který nese znaky pražské parléřovské školy. Z chrámu se dodnes zachovaly impozantní stěny s okny. Celestini, (spolu s augustiniány a benediktiny) tvořili síť klášterů – jen v letech 1367 – 1378 jich bylo Karlem založeno 16 –  jejichž posláním bylo především šíření osvěty v duchu soudobé vzdělanosti a ideologie, pěstování vědy a umění, zejména díky působnosti klášterních škol. Opevněný klášter – pevnost, který měl "ku cti svaté Marie, svatého Václava a svatého Petra" střežit Lužickou stezku a šířit kulturu, nebyl dobyt ani o řadu let později husity, kteří si (jako odplatu za volbu Karlova syna Zikmunda  českým králem Lužickými městy) vybrali jako jeden z cílů spanilé jízdy do Lužice rovněž oybinský klášter a hrad, který chtěli vydrancovat . (Zikmund si údajně v roce 1421 nechal na Oybině ukrýt pražské relikvie, aby nedošlo k jejich ztrátě).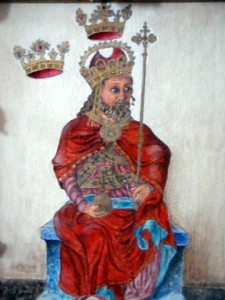 Pro úplnost dodejme, že sláva opevněného kláštera zanikla v roce  1577, kdy budovy po zásahu bleskem vyhořely a byly definitivně opuštěny, aby po dvou stoletích místo objevili romantičtí malíři, spisovatelé a turisté, obdivující západ slunce nad Lužickými horami (neboli Žitavským pohoříčkem – Zittauer  Gebirge) a kochali se nádherným pohledem na údolí směrem ke Hvozdu.
Jestli Karel IV. tento zážitek doopravdy okusil se mi zjistit nepodařilo, v Lužici ovšem byl a při jeho povaze je to velmi pravděpodobné, dokonce pravděpodobnější, než léčení jeho zranění v Karlových Varech po bitvě u Kreščaku.  Ostatně výlet po zdejších stopách činnosti Karla IV. je dobrým námětem pro delší procházku. Muž který byl právem nazýván Otcem vlasti si to zaslouží.
Petr Zázvorka