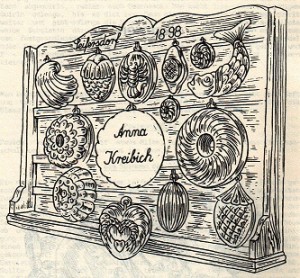 Staré knihy receptů připomínají staré pohádky, redukují totiž svá sdělení jen na to podstatné a podávají informace stejně jednoduchou řečí. Přesto dokážou staré kuchařky přinést mnohá svědectví o době svého vzniku.
Na jejich stránkách se setkáme se starými mírami, které už z našeho povědomí vymizely, vždyť kdo dnes ještě ví, kolik vážil jeden lot?  Také dřívější názvy kuchyňského náčiní už z našich kuchyní moc neuslyšíte, a to kastróly a rendlíky jsou ještě z těch, kterým alespoň rozumíme. A jedná-li se navíc o starou kuchařku, psanou německy a používající řadu výrazů z krajového nářečí…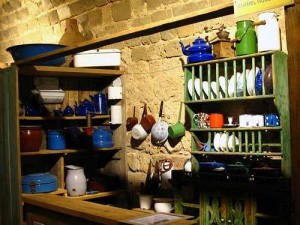 Annl Kreibich se narodila roku 1898 v Žibřidicích (Seifersdorfu), vesnici ležící pár kilometrů jižně od Rynoltic, kde se také učila na místní Haushaltungsschule, tedy dívčí hospodyňské škole. Poté se naučila důkladně znát rakouskou kuchyni za svého pobytu v Gmundenu v Solnohradsku. Základ její kuchařky tak vznikl ještě před první světovou válkou a byl pak doplňován v průběhu dalších 20 let. V roce 1923 se provdala za Josefa Böseho, šéfa mlékárny, a v Žibřidicích žili až do roku 1935, kdy se přestěhovali do Liberce. Po válce byla vyhnána a přes Saalfeld v Durynsku se dostala ke svému synovi do Berchtesgadenu.
Po dobu téměř padesáti let, během první světové války, v těžkých třicátých letech, za druhé světové války i po ní, tato kuchařka byla nejen pro Annu Kreibichovou, ale i pro četné její příbuzné a známé inspirací a zdrojem dobré kuchyně. V pozdních třicátých letech svou kuchařku zapůjčila hostinské z libereckého hostince Stadt Trautenau. Když pak opouštěla po válce vlast, domnívala se, že její kuchařka je nadobro ztracená. V šedesátých letech jí ale napsal bratr, známý umělecký malíř profesor Oskar Kreibich z Becknangu, že byl překvapen, neboť se na něj obrátil nějaký doktor Breuer původem z Liberce, zda náhodou nezná paní Annu Kreibichovou. Jeho sestra má totiž prý něco, co by jí ráda vrátila. Tak se po třiceti letech tato ručně psaná kuchařka, kterou sestra doktora Breuera zachránila ve svém evakuačním zavazadle, vrátila zpět do Kreibichovic rodiny…
Kuchařka zahrnuje více jak dvě stě receptů, rozčleněných na jednotlivé chody, polévky, přílohy, saláty, dorty, nápoje, zvláštní oddíl je dokonce věnován jídlům z máku. Nejde o kuchyni krajových specialit, ale spíše o ukázku kuchyně typické pro Rakousko-Uhersko, tedy mix kuchyně české, maďarské, italské, rakouské či německé. Najdeme zde vedle sebe tradiční Wiener Schnitzel (původem z Milána), Böhmische Dalken, Liwanzen, různé guláše. Z receptů je také dobře patrné, že rodina byla poměrně dobře situována, nešetří se máslem, vejci, smetanou, často se používá telecí maso. Zato koření bývalo drahé, častěji se oběvuje jen hřebíček, muškátový oříšek či zázvor.
Švábská pečeně

Vezme se kus svíčkové, rozkrájí na pěkné řízky, naklepe, osolí, prošpikuje, zapráší moukou a osmahne na rozpáleném tuku. Když je osmahnuto z obou stran do hněda, vyjme se a na zbylý tuk se nasype jemně nakrájená cibulka a sardelky, které se nechají orestovat. Když je cibulka orestována do zlatova, zpřidá se zakysaná smetana, řízky se vrátí zpět a vše se zalije vývarem.

(Místo svíčkové jsem s úspěchem použil vepřovou kýtu a sardelky lze nahradit sardelovou pastou…)

Kaiserschmarn – trhance

1/2 litru mléka se smíchá se třemi žloutky a necelým 1/4 litru mouky, špetkou soli a trochou cukru. Poté se přidá sníh z bílků. Vzniklé těsto se nalije na pánev s rozpáleným tukem a z obou stran do zlatova osmaží. Poté se natrhá na kousky a pocukruje, může se podávat třeba s kompotovanými švestkami.

(Dodnes velmi oblíbené sladké jídlo v celém Rakousku, podává se i s medem, jablečným pyré či zavařeninou.)

Liptauer Käse – liptovský sýr

5 deka másla se rozetře, přidá 1/2 kg tvarohu, 2 očištěné sardelky (ančovičky), jemně nakrájená cibulka a kapary, špetka soli, sladká paprika a na špičku nože hořčice, vše se důkladně promíchá.

(Další tradiční rakouský recept, který objevíte v každém vídeňském lahůdkářství. Opět poslouží i sardelová pasta.)

Chcete-li některou ze stránek kuchařky zvětšit, otevřete jí v galerii, klikněte na ní pravým tlačítkem myši a vyberte volbu Otevřít na nové kartě (Google Chrome). Na nové kartě se otevře fotografie stránky, kterou kliknutím myši zvětšíte. V Internet Exploreru vyberte volbu Uložit obrázek jako, stránku uložte a poté otevřete prohlížečem obrázků, ve kterém stránku můžete libovolně zvětšovat. Literatura: Kochbuch der Kreibich Annl aus Sefersdorf, Krs. Deutsch-Gabel, Mnichov 1990