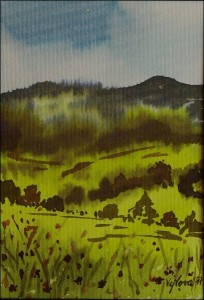 Krás, kterými Polesí oplývalo (a bohudík stále ještě oplývá), si kromě četných návštěvníků byli dobře vědomi i místní obyvatelé. Snažili se podle svých možností obec zvelebit, byli hrdí na její minulost. Jejich láska k rodné vesnici si našla cestu i do básní, ve kterých, ač se nejednalo o žádné profesionální básníky, se snažili opěvovat její půvaby.
Tři z těchto básní se v obecním archívu dochovaly mezi tiskopisy a úředními dokumenty dodnes. Svědčí to o tom, že jim byl ve své době přikládán jistý nemalý význam. Možná to nejsou žádná vrcholná básnická díla, ale vypovídají o lásce, kterou místní obyvatelé ke své vlasti cítili… První z nich pochází z pera místního rodáka a obyvatele, Rudolfa Wörfela.
Finkendorf
von Rudolf Wörfel
1)
Abseits still von dem Getöse
mitten zwischen Wald und Flur
liegt mein Heimatsdorf so ruhig,
bloß die Wälder rauschen nur.
2)
Nette Häuschen, schöne Gärtchen
und ein Bächlein silberrein
zieren dieses kleine Dörfchen
sag't wo kann es schöner sein?
3)
Wenn die Sonne früh am Morgen
schaut dort hinterm Berg hervor
klingen auch der Vögel Kinder
leise schon an unser Ohr.
4)
Diese kleine Stückchen Erde
wie es ist so hübsch und fein
kann der Wand'rer sich besehen
von dem nahen Rabenstein.
5)
Herrlich ist's zu promenieren
in den Wäldern düftereich,
Wassersport kann man betreiben
in das Ortes Badeteich.
6)
Tausenden von Sommergästen
ist das Dörfchen wohlbekannt,
soll ich nun den Namen sagen:
Finkendorf wird es gennant.

Polesí
od Rudolfa Wörfela
1)
V tichu stranou všeho hluku
kolem jen potok a les
jen šum lesa uslyšíš tu,
zde leží má rodná ves.
2)
Vlídné domky, s zahrádkami
třpytící se rybníček
zdobí tuto ves mou milou
řekni, kde hezčí najdeš?
3)
Když pak slunce brzo z rána
zasvítí zpoza kopce
i ten ptačí zpěv nám zazní
do uší tak tichounce.
4)
Že je tato naše země
líbezná a překrásná
návštěvník vše okem shlédne
z blízké skály – Havrana.
5)
Nádherné je procházet se
po voňavém lesíku,
vodním sportům věnovat se
ve vesnickém rybníku.
6)
Nespočetně letních hostí
vesničku tu dobře zná,
musím jen říct jméno její:
Polesí se nazývá.
(volně přeloženo)