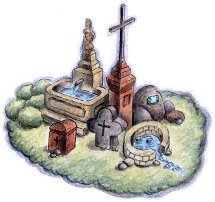 Definice pojmu krajina není jednoznačná, ale obecně panuje shoda, že jde o propojení přírody s lidskou činností. Člověk svou činností přetváří a ovlivňuje přírodu a dává tak vzniknout krajině. Jako krásnou pak obvykle vnímáme takovou krajinu, kde člověk své působení dokázal realizovat v harmonickém souladu s přírodními podmínkami, využil jejích předností a mnohotvárnosti a dal tak vzniknout krajině pestré. Krajině, kde se lidská sídla střídají se zemědělsky využívanou krajinou, lesy jsou obklopeny loukami a poli a protknuty sítí cest a vodních toků.
Lidskou činností v přírodě nerozumíme jen její hospodářské využití, ale i různé snahy krajinu uměle dotvářet, esteticky jí formovat, ať už prostřednictvím rozsáhlých kompozicí, tak i formou umísťování drobných staveb na krajinářsky významná místa.
Pod souhrnným pojmem drobné památky zahrnujeme různé kapličky, zvoničky, kříže, boží muka, sloupy či obrázky. U těch starších se jedná v drtivé většině o drobné stavby a památky sakrální, svědky lidové zbožnosti, v našich krajích reprezentované  náboženstvím katolickým. Jako doplněk k velkým stavbám, prováděným v režii panovníka, šlechty či církevních institucí, vznikaly v obcích i ve volné krajině drobnější stavby a objekty, jejichž původcem byly různé soukromé osoby či obce. Vznikaly jako výraz díků či pokory, kromě svého prvotního významu posloužily ale i jako lokální dominanty a orientační body.
Po komunistickém převratu se náboženství stalo synonymem pro zpátečnictví a reakci a není tak divu, že o sakrální památky nejevil zájem nejen stát, ale že už i jen starat se o ně začalo být podezřelé. Zatímco ty velké mohly posloužit alespoň jako lákadlo pro zahraniční turisty, drobné památky jako by nezajímaly už nikoho a zdály se být vlastně zbytečné. Křížek uprostřed křižovatky polních cest vlastně nakonec jen překážel při zcelování polí, po cestách už stejně nikdo nechodil, takže bylo jen logické ho strhnout. Kapličky, u kterých se už nikdo nemodlil, stačilo často jen nechat být, po pár desítkách let bez údržby spadly samy. Případně je bylo možné rozebrat na stavební materiál, jak se to stalo s kapličkou na Nové Starosti. V pohraničí navíc po odsunu nezůstalo prakticky žádné původní obyvatelstvo a byla tak přetržena kontinuita osídlení a trvalo dlouhá léta, než noví osadníci navázali s krajinou citový vztah.
Zdálo by se, že z desetitisíců drobných památek, roztroušených po krajině Čech a Moravy, postupně nezbude nic. Po pádu komunistické vlády se ale naštěstí začalo blýskat na lepší časy. Ne snad proto, že by se mezi lidi nějak výrazně opět rozšířila zbožnost, spíš se objevila touha navázat na přervané kořeny, touha vnést zase do našich životů, obcí a krajiny trochu té obyčejné krásy, kterou jsme najednou mohli obdivovat třeba v sousedním Rakousku či Bavorsku. Objevily se první občanské iniciativy, které si daly za úkol zachránit a obnovit dědictví předků. Také obce se začaly zaměřovat na údržbu těchto drobných památek, nacházejících se ostatně většinou právě v obecním vlastnictví. Za posledních dvacet let se tak podařilo zachránit velké množství staveb, stavbiček i drobných solitérních objektů, které by jinak asi nenávratně odnesl čas. Často se tak děje nenápadnou formou, boží muka jsou najednou nové omítnuta a nabarvena, na torzu se zas objeví obnovený litinový kříž, kaple má spravenou střechu. Je za tím ale spousta práce lidí, kteří se této činnosti věnují v rámci svého volného času, jsou za tím skryty sbírky peněz, příspěvky od emigrantů a vyhnanců, hádky v obecních zastupitelstvech o smysluplnosti peněz vynaložených na "zbytečnosti". Výsledkem je krajina, postupně a nenápadně  nabývající původní pestrosti a harmonie, byť v rozsahu oproti minulosti značně redukovaném.
Některá občanská sdružení a spolky z péče o drobné stavby učinila hlavní náplň své činnosti. V Jizerských horách je tak velmi aktivní například Spolek Patron, obnovující nesčetné jizerskohorské pomníčky. Velmi aktivní je také občanské sdružení Drobné památky severních Čech, které za deset let své činnosti obnovilo více než 200 drobných památek v Libereckém, Ústeckém a Středočeském kraji.
Přes veškerou snahu ale zůstává i nadále spousta drobných objektů, které na své zachránce dosud čekají. Dosud tak zůstává prostor pro soukromou či spolkovou iniciativu, ostatně opravou památky věc nekončí. Jen pravidelná a dlouhodobá údržba je zárukou jejího dobrého stavu.
Iniciativa jednotlivců či spolků se však nemusí omezovat jen na opravy památek již existujících. Z krajiny i obcí jich zmizelo tolik, že se přímo nabízí možnost citlivě osadit drobné památky nové, ať už na místech památek zmizelých, či dosud nikdy nezastavených. Vznikají tak nové lokální dominanty, místa pro zamyšlení a odpočinek, drobné turisticky atraktivní cíle. Ke slovu přicházejí přírodní materiály, vhodně zapadající do místního prostředí, dřevo, kámen, omítnuté zdivo. Sakrálních staveb vzniká méně, ale o to víc je zas třeba různých zvoniček či solitérních soch. Na místech bývalých staveb vznikají moderně umělecky pojaté náhrady, které již jen nekopírují staré styly, ale přinášejí i nové pohledy. Vhodně zvolený materiál, citlivě pojaté provedení s lokální reflexí, místně významná lokalita, to je kombinace, která vždy znamená oživení prostoru, přitáhne pozornost, dodá místě jistou hloubku.
V jednom z předchozích příspěvků jsem tak zmiňoval například novou dřevěnou zvoničku na Dědkově odpočinku či kamenný sloup s obrázkem Svatého Antonína v Trávníku u Cvikova. V krajině i v obcích se poměrně často objevují solitérní dřevěné a kamenné sochy, někde jde dokonce i o rozsáhlejší kompozice, jako třeba v případě čedičového kamenného kruhu u Lemberka.
Drobné památky, ať už ty historické či nově vznikající, jsou (při citlivém pojetí!) prvkem, který krajinu oživuje a dotváří. Současně jsou i něčím, co odkazujeme budoucím generacím, naší stopou v tomto světě…