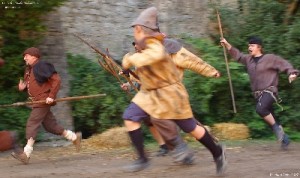 O tom, že na prvopočátku založení obce Polesí stály události spojené se selským povstáním roku 1680, vládne obecné povědomí. Ohledně průběhu tohoto povstání na lemberském panství však panuje celá řada mýtů, které se v různých formách objevují od starých německých vlastivěd z předminulého století přes historický román Václava Kaplického až po soudobé turistické publikace a webové stránky. V dřívějším článku o založení Polesí jsem vyjádřil názor, že tradovaný dar pozemku rynoltickému kantorovi Sebastianu Finkemu za jeho věrnost vrchnosti při selském povstání byl ve skutečnosti spíš promyšlený kolonizační počin lemberské vrchnosti. Ostatně ani o žádný dar nešlo, byť cena pozemku se zdá oproti jiným zvýhodněná. Že ale Finke jistou roli během povstání opravdu sehrál, je ze starých dokumentů zřejmé, i když věci se možná seběhly trochu jinak…

Samotné selské povstání na panství Lemberk bývá líčeno velmi dramaticky. Opakovaně se objevuje tvrzení o nelidských podmínkách nevolníků na panství krutého hraběte Bredy, který své poddané mořil nekonečnou robotou a jejich ženám neváhal dát ostříhat vlasy, aby jejich prodejem získal další finanční prostředky… Bylo ale vše opravdu tak?
Zkoumání selského povstání v Čechách a jeho interpretace se v průběhu času značně proměňovalo. Historici českého původu v 19. století hledali často příčiny povstání v otázkách náboženských či národnostních, zatímco druhá polovina dvacátého století celkem očekávaně interpretovala povstání jako třídní boj porobených rolníků proti nenasytným feudálům. Nicméně nehledě na století, národnost či právě panující režim celá řada historiků pečlivě prozkoumala archívy řady panství a shromáždila obrovské množství pramenů, které nám pomáhají udělat si realistický obrázek tehdejší doby a příčin a průběhu velkého selského povstání v roce 1680.
Rozsah povstání
Přesto, že selské povstání roku 1680 bylo svým rozsahem výjimečně velké, není pravdou, že by zasáhlo celé území Čech a Moravy. Zasáhlo sice asi 130 panství, jednalo se ale o panství hlavně v severních a západních Čechách. Rozsáhlé zemědělské oblasti Středních a Jižních Čech nebyly vůbec zasaženy.
Jednotnost povstání
Někteří historici interpretují povstání jako logický a nevyhnutelný důsledek rostoucího útlaku ze strany feudálních vlastníků panství. Z tohoto pohledu to vypadá, že situace ve všech panstvích byla obdobná a že tento tlak vyprovokoval víceméně shodný postup nevolníků proti vrchnostem.
Ve skutečnosti byla ale situace nevolníků na každém panství odlišná. Abychom mohli tento stav lépe pochopit, je třeba nejprve si upřesnit některé skutečnosti.
Ve feudální monarchii, jakou tehdy Rakousko bylo, byla zdaleka nejdůležitějším výrobním prostředkem půda. Jediným vlastníkem veškeré půdy byl panovník, který propůjčoval tuto půdu v léno jednotlivým feudálům či církevním institucím, a to nejprve doživotně, později již dědičně. Tito leníci dále půdu dědičně pronajímali jednotlivým nevolníkům, kteří na ní hospodařili. Leníci neboli vrchnost panovníkem svěřené území spravovala, disponovala nad ním veškerou mocí a rovněž zajišťovala výběr daní a jejich odvod centrální moci. Nevolníci hospodařící na pronajaté půdě odváděli vrchnosti jednak feudální rentu (ve formě peněžní i nepeněžní), jednak museli v určitém rozsahu provádět robotní práce, tedy pracovat na pozemcích či stavbách, které obhospodařoval feudál ve vlastní režii.
Jednou z nejčastěji uváděných příčin selského povstání je neustále rostoucí zatížení robotními povinnostmi v pobělohorské době. Musíme si ale uvědomit, že rozsah robotních povinností souvisel s mírou rozvoje vrchnostenských velkostatků, tedy hospodářských statků, které provozoval vlastník panství ve vlastní režii a pro které využíval jednak námezdní práci, jednak robotní práci svých nevolníků. Logicky tedy čím větší rozsah a počet velkostatků na panství existoval, tím větší byla potřeba robotní práce i její rozsah. To se týkalo rovněž stavebních prací, které vrchnost prováděla.
Robota
Dominikální, tedy vrchnostenskou půdu obdělávala vrchnost ve vlastní režii, tj. prostřednictvím námezdních pracovníků a robotní práce . Společně obhospodařovávaná jednotka dominikální půdy se jmenovala poplužní dvůr. Zahrnovala budovy, nějaké vybavení a šafáře s minimálním personálem. Poplužní dvůr by se dal označit za panský statek, kdyby nehrozila záměna s pojmem poddanského gruntu nebo deskového statku. Každý držitel poddanského gruntu měl povinnost robotovat jistý počet dní na dominikálu, buď sám, nebo s vlastním potahem. Proto se v poplužních dvorech nedržel dobytek. Robota vězela na gruntu, ne na osobě. Sedlák tedy nemusel robotovat, musel pouze zajistit jistý počet člověkodnů. Mohl poslat čeledína nebo kohokoli, kdo byl ochoten to za něj vzít. Tradiční pojmy pracovat na svém či na panském jsou poněkud zavádějící. Vrchním vlastníkem veškeré půdy byla vrchnost. Čím byl bohatší sedlák, tím víc měl roboty, nejbohatší pak tři dny v týdnu. To plynulo z faktu, že bezzemek si musel vydělávat na živobytí námezdní prací a při třech dnech roboty týdně by umřel hlady.

Hrabě Breda – Jaroslav Vrchlický
V zlém hněvu hrabě Breda burácí;
daň neplatili jemu sedláci.
Zda nemohli neb nechtěli,
on čeká darmo třetí neděli.
A k poledni zněl návsí bubnů vír
a v drábů středu kráčel mušketýr.
"Pan hrabě to vám činí vzkázání,
že nejvyšší čas, dělat pokání.
A zaplatit co dávek, desátků,
neb hrdlo chystat v pěknou oprátku!"
Však marně prchl čtvrtý týden zas
a návsí bubny zní a polnic hlas.
Vojáci kol vsi řetěz splítali
a všecky mladé dívky schytali,
a mladé ženy všecky do jedné
a do zámku je hnali v poledne.
Co bude s nimi? – Jaký osud jich?
A v mušketýra odpověď zněl smích.
"Pan hrabě poslouchat vás vycvičí,
na zámku čekají už holiči.
Ti ostřihají vlasy ženám všem,
by hrabě zkrácen nebyl v příjmu svém.
Co měli vy jste dáti na zlatě,
kštic zlatem nahradí si bohatě."
A stalo se tak. – Jedna dívka jen
jak vesna sličná, tichá jako sen
se zdráhala – a hrabě povelí:
"Ji ku lepšímu chystám úděli;
já pro sebe ten zlatý nechám vlas,
ty druhé ostřihané pusťte zas!"
A stalo se. Noc táhla v tichý kraj.
Ó pane hrabě, dnes tě čeká ráj!
Ta dívka selská, soujem luzných vnad,
v svých vlasů zakryje tě vodopád.
Jí tisíckrát se tobě odplácí,
co dluhují ti ještě sedláci. –
Svit jitra plnou září v pokoj vnik'
a dveřmi hlavu strčil komorník.
Pán nezaspal tak nikdy do rána.
Zří k loži – clona jeho strhána.
Zří k oknu – s něho bílý vlaje šat,
zří v lože zas a trne hrůzou jat,
a neví, je to pravda, je to sen –
tam zlatou kšticí hrabě uškrcen.
"Bezprostřední příčiny povstání nemůžeme však hledat v náhlém velkém zhoršení životních podmínek koncem sedmdesátých let. Jejich postavení bylo v tu dobu neméně těžké než v létech předcházejících. Hospodářské poměry nevolníků neměly rozhodující vliv na to, že odpor nevolníků vyvrcholil právě roku 1680. Sociálně-ekonomické postavení rolníků vytvářelo základní, určující předpoklad pro vznik povstání, možnost povstání se však přeměnila ve skutečnost za zvláštních okolností, které se skutečnými příčinami výbuchu nespokojenosti neměly sice mnoho společného, ale měly vliv na formu povstání a dobu jeho vzniku. "(J.Kašpar – Nevolnické povstání)
Použitá literatura: Selská rebelie roku 1680 – Jaroslav Čechura
pokračování příště…..