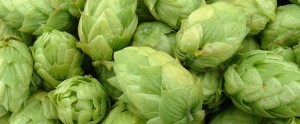 Nic naplat, pivo je a bylo v českých (a sudetských) restauracích a hospodách nápojem nejoblíbenějším a tak se u něj zastavíme ještě jednou. Tentokrát u dnes již neznámého jevu, kterým bylo stáčení a lahvování piva jednotlivými hostinskými a obchodníky.
V českých zemích se pivo do lahví začalo poprvé plnit v Praze v roce 1841  v pivovaru U Křížovníků na Starém Městě. Šlo pouze o první průkopnickou vlaštovku v novém druhu distribuce chmelového moku. K masivnímu rozšíření plnění piva do lahví ze skla došlo až na počátku 20.století.
Lahvové pivo bylo v těch dobách v podstatě považováno za jinou kategorii piva, nebylo prodáváno pouze hostinskými, ale zákazník si jej mohl koupit také v hokynářství, trafice i v uzenářství. Je ovšem skutečností, že spotřeba čepovaného piva stále výrazně převažovala.
Pivovary buď samy svůj produkt naplnily pivo do lahví a následně ho distribuovaly k hostinským či jiným prodejcům nebo zavezly sudy s pivem do soukromých stáčíren, odkud pak lahve směřovaly do maloobchodů.
Hostinští z rozvoje lahvového piva přílišnou radost neměli, neboť viděli v prodeji piva v lahvích v drobných prodejnách novou konkurenci své živnosti. Majitelé či provozovatelé hospod se tedy začali proti rozšiřování lahvového piva bránit. Hostinští psali stížnosti nebo se snažili o jeho bojkot, jako například v Kutné Hoře. Rozšíření lahvového piva však již nemohlo nic zabránit a když se časem zdokonalila technologie jeho lahvování a získání koncese pro jeho prodej bylo ještě snazší, rozšířil se prodej lahvového piva z měst i na venkov.
Hostinští byli tedy nuceni se s existencí konkurence v podobě lahvového piva smířit a rozhodli se mu čelit tím, že sami prodej jeho prodej zavedli. Nejprve se jednalo o pivo stáčené přímo v pivovarech, ale později si četní hostinští pořídili vlastní plničku lahví a začali si pivo stáčet sami. Zřejmě to bylo tak pro ně výnosnější. Od sklářské firmy si nechali vyrobit vlastní lahve, často s litým nápisem, později i papírové etikety.
Lahve na plnění piva se dělily na pivovarské a pivní. Pivovarské lahve byly v majetku pivovaru a bývaly označeny nápisem nebo logem výrobce piva. Majiteli pivních lahví byly soukromé osoby, firmy nebo spolky, které samy pivo nevyráběly. Byly to lahve hostinských, hoteliérů, kteří stáčeli pivo z pivovarů do svých lahví, ale třeba i stáčíren nebo skladů, pro které bylo ekonomičtější dovézt z pivovaru sudové pivo a pak jej teprve před prodejem stočit do lahví. Láhve se uzavíraly zpočátku korkem, později se přešlo na keramickou zátku, jež byla upevněna k hrdlu.
Od počátku masovějšího používání lahví jako pivního obalu fungoval systém zálohování, tak, jak ho známe dnes. Pivachtivý spotřebitel si napoprvé koupil lahvové pivo a zaplatil zálohu na láhev. Když přišel podruhé, přinesl si čistě vymytou láhev a nechal si do ní stočit nové pivo. Když se zákazník rozhodl, že nebudete dále kupovat lahvové pivo, vrátil obchodníkovi čistou láhev a on vyplatil zpět zálohu.
Kromě hostinských se lahvováním piva zabývali i obchodníci, z nichž někteří se na tuto činnost vyloženě specializovali a dosáhli opravdu velkých objemů prodeje.
Lahvové pivo si zákazníci odnášeli nejen domů, ale často i do práce. Pivo (nízkoalkoholové) pili ve velkém skláři, kteří kvůli horkému pracovnímu prostředí museli neustále doplňovat tekutiny. Ale pivo si na práci do lesa nosili třeba i dřevaři a tak se nám ještě dnes může přihodit, že takovou starou pivní lahev kdesi hluboko v lesích najdeme..
Zdroj: Pivovary.info, Josef Staněk – Blahoslavený sládek