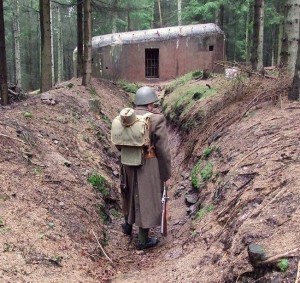 K útoku na řopíky nikdy nedošlo
Pro úkol dobytí pevnostní linie se připravovaly zejména parašutistické a granátnické oddíly Wehrmachtu, výcvik byl prováděn na napodobeninách objektů za použití ostré munice.
Každý člen úderného družstva prováděl přesně určený a detailně nacvičený úkol a byl schopen nahradit vyřazeného spolubojovníka. Ke zneškodnění mělo dojít především překvapivým útokem zezadu objektu, za spolupráce s letectvem. Střemhlavé a bitevní letouny měly zahájit bombardování linií a zneškodnit ty objekty, které by bylo možné zasáhnout přímo. I když by bombardování nebylo přesné, vytvořilo by se v okolí množství kráterů, které by bylo možné využít při útoku. Mohutné detonace měly obránce demoralizovat, donutit je uzavřít se v bunkrech. V praktických cvičeních za použití ostré munice bylo zjištěno, že dobře umístěných je pouze 50 % pum, v bojových podmínkách se předpokládala, zejména u dalších bombardovacích vln úspěšnost vzhledem k prachu a kouři ještě mnohem menší. Hrozilo rovněž ohrožení vlastních úderných jednotek. Proto měly být použity staré bitevní dvojplošníky He-51 a HS-123, které měly následovat za vlnou střemhlavých Ju-87A. Druhá náletová vlna zakončená shozením světlic byla i poslední, po ní následoval ihned útok úderných skupin. Zteč se předpokládala při zamlžení prostoru v určité hustotě. Prvním úkolem bylo zablokování výstupního otvoru pro vypouštění obranných granátů ze skluzů vyústěných v týlových zdech v blízkosti vchodu, ze kterých měli obránci vypouštět ruční granáty. (Skluz se lišil od francouzského vzoru, kde granát vyhazovala pružina, v řopících měl granát vyklouznout. Němci však netušili, že vhodné granáty dosud ještě osádky pevnůstek nemají a že žádný z typů dosud užívaných granátů se pro vypouštění ze skluzů nehodí. Užívané granáty proto bylo možné pouze vyhazovat jen z vchodu, po otevření vchodové mříže a ten ovšem úderná skupina dobře hlídala. Předpokládané časované granáty OČRG vz. 38 byly dosud ve výrobě, v opevnění nebyl ani jediný.) Současně s ucpáním granátové výpusti měli jiní úderníci vhodit granáty do vchodů a ke střílnám. K narušení obranyschopnosti měly přispět další nálože zasunuté až do vchodů a střílen. Pokud by úderníci narazili na neuzavřené otvory ve stropě pro dosud neosazené periskopy, měli do nich nalít hořlavinu. Ta by se použila i do větracích otvorů se spádem do objektu a knalití za schůdek vchodové mříže. K umlčení střílen na větší vzdálenost se plánovalo použití protitankových pušek, nebo horských a protitankových kanónů dopravených letadly. Střílny se měly nepřetržitě ostřelovat kulometnou palbou, aby rozstřikující se olovo ohrožovalo obsluhu vniknutím do úzkého výřezu. Plamenomety měly donutit obránce k odstoupení od střílen a tím k jejich vyřazení z palby do přehrady. Konečné vyřazení objektu měly zajistit vedle hořlavin velké nálože přiložené co nejtěsněji ke střílnám nebo vhozené do zalomení vchodů. K zasouvání balených náloží používali úderníci dlouhých dřevěných vodítek, po kterých se nálože posouvaly lanky. Toto jednoduché zařízení se dalo obsluhovat i z míst, kam palba nezasahovala. Útočné družstvo bylo vybaveno i skládacími lehkými žebříky a štíty k zakrývání výhledu ze střílen. Cvičilo se i zahrnování střílen zeminou a rychle tuhnoucí tekutou hmotou. Předpokládalo se, že jakmile alespoň část družstva pronikne k objektu, bude jeho zánik otázkou několika minut. Napadený objekt se sám nemohl prakticky bránit, jeho jedinou nadějí byla přímá palba sousedů. Sousední objekty ovšem mohly být napadeny současně, v umělé mlze a v dýmu nebylo dobře okolí vidět. Vážnou slabinou bylo vzájemné propojení objektů, optické signály nemusely být vidět. Postupným vyřazováním nebo oslepováním střílen měl být umlčován jeden objekt za druhým, takže by palba mezi objekty slábla, až by třeba i dočasně umlkla. Pak měly nastoupit k čelnímu útoku i pozemní jednotky, těsně za nimi speciální jednotky sestavené z roty těžkých tříosých obrněných automobilů s 20 mm kanónem, motocyklisté s kulomety v přívěsných vozících a ženijní útvary s plamenomety. Spoluprácí výsadkových a pozemních jednotek měl být vytvořen v linii bunkrů úzký průlom, kterým by prošla pěchota. Vzdálenější pevnůstky se měly ponechávat v klidu, nejvýše provádět omezená demonstrační činnost, po průchodu větších sil Wehrmachtu a po rozhodném postupu na Olomouc a Brno by je čs. armáda musela vyklidit stejně.
Epilog
Podepsáním Mnichovské dohody vládami Itálie, Německa, Francie a Anglie se nachýlil v pátek, dne 30. září 1938 konec Republiky československé. Winston Churchill téhož dne prohlásil:"Anglie měla na vybranou mezi válkou a hanbou, zvolila hanbu a bude mít válku." Nemá smysl řešit, kdo tehdy byl bláhovější, zda většina německých obyvatelé Sudet, kteří přivítali připojení k nacistickému Německu a krutě doplatili na pozdější vývoj vnitřní i vnější situace, (mimochodem i pokud jde o rasovou příslušnost, nedopadli tzv. sudetští Němci právě nejlépe, nacistickými "vědci" byli považování v jistém smyslu za jakýsi "mischung", při hodnocení "rasové čistoty", prováděné po nástupu Reinharda Heydricha do funkce říšského protektora, byla dokonce česká populace na území Protektorátu považována za rasově daleko čistší a tudíž i "nordičtější" a po "poněmčení", posléze, po výběru, příslušnosti k vládnoucí elitě vhodnější). Mýlili se západní spojenci, kteří se naivně domnívali, že územními zisky uspokojí Adolfa Hitlera v jeho světovládných aspiracích, mýlili se generálové a vojáci Wehrmachtu a jednotek SS, kteří uvěřili v poslání supernároda určeného vládnout nové Evropě (aby ukončili svoji existenci v ruských stepích, na pobřeží Normandie a v lepším případě živořili desetiletí v sibiřských pracovních táborech), mýlili se čeští vojáci, policisté a financové, kteří byli tehdy opravdu odhodláni nevydat území, které bylo tisíc let součástí Čech a byli za to rozhodnuti položit život, (jejichž další osudy se rozhodně nevyvíjely podle jejich aspirací, když jednu diktaturu vystřídala jiná). Mýlili se zřejmě všichni, i nikdy nevyužité bunkry jsou toho jedním z důkazů. Popravdě řečeno, v zákopech, které dodnes kolem bunkrů v různých místech existují, bývají houbařské úlovky nejkvalitnější. To je jedno z praktických poučení, které nám procházka po marném opevnění hranic dnes přinese. Cestou od Pekařovy borovice se zastavíme u pramenů, Oskara a Otakara, pojmenovaných podle volacích kódů Polesí a Rynoltic, jako vzpomínka na vojáky, kteří nedaleko přespávali na betonu a chodili si sem pro dobrou vodu. A neznamená to, že bychom si neměli vážit práce německých obyvatel, kteří dobrou vodu z pramenů dokázali již v roce 1910 přivést vodovodem do Polesí, nebo chcete-li, tehdy do Finkendorfu, právě osamostatněné vesničky honosící se jménem pana Pěnkavky, dříve než se to podařilo měšťanům v Praze (kam dotekla kvalitní voda z Káraného do společné vodovodní sítě až počátkem roku 1914). Ano, svět byl a je složitější než by se zdálo, všechno je jinak, říkal pan Jan Werich po způsobu židovských rabínů. Za války i v období které následovalo, došlo k řadě nelidských činů, křivd a nespravedlností, které se dotýkali obyčejných lidí. Staly se zločiny, které je sice možné soudit (a jen ztěží zcela odčinit), ale které čas nakonec srovná tak, že se stanou jen historickým reliktem. Platí to o válce třicetileté, právě tak jako o válkách dvacátého a jedenadvacátého století. Snad to pochopí i Evropa, která má stále ještě neopakovatelnou šanci se konečně domluvit a žít v klidu a míru bez ohledu na jazykové či jiné bariéry. Opět můžeme bez problémů projíždět na kole mezi hraničními kameny a navštěvovat krásná místa v jejich bezprostředním okolí. Prameny, které tu zůstaly, slouží opět všem kteří jdou právě kolem, jak to bylo po staletí.
Dobře, že ty prameny zůstaly, važme si jich a opatrujme je jako oko v hlavě. Nepotřebujeme k tomu žádná opevnění, potřebujeme jen hrábě a trochu dobré vůle při jejich vyčištění od spadaného listí. Máme totiž za ně osobní zodpovědnost, právě tak, jako za celou tuto zemi. Pokud ji přenecháme těm druhým a budeme lhostejně zírat a doufat, že se to nějak samo od sebe vyřeší i bez nás, historie s námi zle zatočí, výmluvy nepomohou.
 Petr Zázvorka