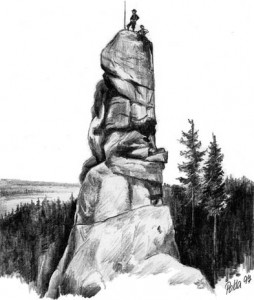 Je to už rok, co Lukáš Bludský publikoval dva příspěvky, ve kterých představil skály v okolí Polesí a lidi, jejichž koníčkem se stalo jejich zdolávání.
Mezitím jsme navázali kontakt s Petrem Ferdyšem Poldou, grafikem, nakladatelem, hudebníkem a horolezcem, který nám dovolil používat své kresby, na kterých realisticky zachytil krajinu, lidi a památky našeho kraje. Kromě toho nám ale poskytl obsáhlý článek z Ročenky Jizersko-ještědského horského spolku z roku 2002, kterou rovněž vydává. Článek obsahuje rozsáhlý text Marka Řeháčka o historii horolezectví v Pískovcových horách, tedy oblasti severním a severovýchodním směrem od Polesí.
V textu se objevují i jména, známá mnohým z Vás a je zde zmíněn (byť s překlepem) i Jiří Koprnický.
Petr Zázvorka text komentoval následovně: "Ta ročenka by u nás měla být rozhodně také, se Zárybníky jsme lezli (viz diskuze s Lukášem Bludským) – všiml jsem si, že tam v textu, kde jmenuje Jirku Koprnického, má bohužel překlep ve jméně. To že nejmenoval Pražáky, odpovídá, my byli přeci jen sezónní a počtem, výstupů  jsme byli v průměru daleko za "místními", i když některé výstupy se staly v okolí známými a končili jsme většinou všichni při tancovačce na Louži, kde vynikal Jirka Zárybnický se svým bendžem. Všechno, celá ta éra začala cca v roce 1965 (předcházela jí doba kanoistiky, kterou Neander dotáhl až do reprezentace a my ostatní skončili na Lužnici a Vltavě) a skončila po svatbách ( až na pár výjimek, tak kolem roku 1972) a nutností, dělat také na chalupách (my měli víceméně jen víkendy, místní lezli pořád). Ty kresby budou moc pěkné, je dobře, že to poslal.
Petr"