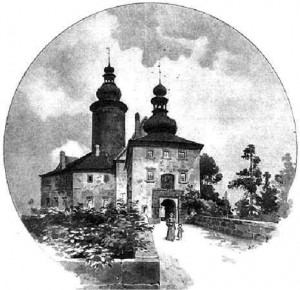 V úvodní části vyprávění o selské rebelii z roku 1680 jsem se zabýval především obecnými předpoklady vypuknutí selského povstání v Čechách. Druhá část přinesla informaci o hospodářské situaci poddaných na lemberském panství. Část třetí bude zaměřená na samotný průběh povstání na Lembersku, tak, jak sezachoval v četných archivních dokladech a výpovědích současníků.
Počátek roku 1680 přinesl do severního Boleslavská nebývalý ruch, který tato oblast již desetiletí nezažila. První fáze povstání spočívala v tom, že poddaní jednotlivých panství sepsali petice se stížnostmi na svou vrchnost a pokusili se je předat v Praze přímo císaři Leopoldovi I. Po prvním úspěchu Frýdlantských, kterým se podařilo odevzdat petici krátce po polovině listopadu předchozího roku, se ještě před koncem roku 1679 podařila podobná akce Libereckým. Obrazně řečeno: na řadě byl Lemberk a Grabštejn… O "prehistorii", tedy o vlastních přípravách Lemberských na petiční akci nevíme zho­la nic. Michael Krieschel z Markvartic, mladý muž a patrně student či kantor, byl autorem první petice Lemberských, kterou ale nejspíše inicioval jiný poddaný, totiž Michael Teichgräber. O tom, jak vypadala a jaké články obsahovala, nic nevíme, byť se sotva mohla výrazněji lišit od stížných listů, které byly posléze určeny jak hraběti Bredovi 15. ledna 1680, tak císaři Leopoldovi I. 31. ledna 1680. Na rozdíl od frýdlanských a libereckých poddaných se ale lemberským předat císaři petici nepodařilo. Na Starém Městě pražském byli totiž zatčeni čtyři lemberští pod­daní, kteří patrně měli tuto první petici panovníkovi doručit. Stalo se tak pravděpodobně někdy kolem 10.ledna 1680.
Zdá se, že připravovaná akce byla na lemberském panství prozraze­na, jak naznačují později nepřímo Bredova slova. Čtyři sousedé z Lemberka skončili ve věze­ní na Staroměstské radnici. Dalším krokem v tomto hnutí byl pak pokus o zatčení pisatele petice. To, podle pozdější výpovědi hraběte Bredy, proběhlo následovně:
"Opravdu, můj důchodní písař poslal pro syna Michaela Krieschela, který byl podezřelý, že sepsal jejich stížnost. Měl být vyslechnut dříve, než byli čtyři moji poddaní zadrženi v Praze. Syn se však neobjevil, otec odpověděl velmi zarputile: 'Nemám čas svého syna posílat někam v tomto špatném počasí. Musím zařídit jiné věci.' Nebyla to pravda, za což jsem jej mohl nechat vypráskat. Za svou neposlušnost dostlal pouze dva mírné pohlavky a byl zavřen do komůrky pod mostem, nikoli do věže."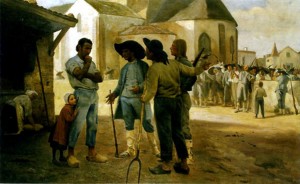 'Trvalo určitou dobu, než se panství zmobilizovalo k nějaké akci. Přišla sobota 13. ledna, kdy se kolem deváté hodiny ranní dostavil před lemberský zámek zástup asi 60 poddaných. Část z nich měla střelné zbraně, ostatní klacky. Vstoupili do panské kanceláře, kde pracoval písař, který jejich příchod neočekával a překvapeně se jich zeptal: "Co chcete?" a "Co znamená váš neobvyklý průvod?"  Odpověděli mu přímo: "Chceme osvobodit Krieschela z vězení a nabízíme rukojmí." Písař nemohl přistoupit na jejich neobvyklý postup. Vzdorovitá a umíněná slova na něj nezapůsobila. Snažil se jim domluvit, aby šli domů, že uvězněného muže časem propustí.
Úřední písař měl v úmyslu zatknout také Michala Teichgräbera, hlavního iniciátora petice, protože neuposlechl opakovaný příkaz a nedostavil se sám na správu panství. Na to mu ale všichni ostatní hned odpověděli: "Zůstaneme s ním, protože, kde je jeden, chceme zůstat všichni." Na to je musel dát písař s rychtářem vyhnat ze světnice, někteří přitom dostali ránu.  Když se ocitli venku, pokusili se opět vniknout dovnitř dveřmi a oknem, ale starého Krieschela se jim nepodařilo osvobodit. Mezi tím se srotil zástup nedaleko zámku za okrasnou zahradou spolu s poddanými z nedalekých vesnic, vyzbrojenými kopími, tyčemi a jinými zbraněmi, které si přinesli již v oděvu.
Následující události, k nimž došlo jak na lemberském panství, tak zejména v okolí zámku – stále je ještě sobota 13. ledna 1680 – vcelku zřetelně prozrazují, že o nějakých hlubokých či rozsáhlých přípravách na rebelii či alespoň "řádném podání" petice namohla být řeč. Podda­ní, kteří se srotili před zámkem, se totiž rozhodli, že se utáboří 3/4 míle odtud. Hrabě Breda si o jejich počínání s odstupem téměř dvou měsíců myslel: "Patrně neměli v úmyslu konat poradu, poněvadž jejich muži byli již odesláni do Prahy. Nejspíše připravovali nějaký útok a něco zlého proti mému úřadu a zámku. Chtěli osvobodit vězně a zastřelit mého písaře, za­útočit na zámek a dobýt mou zbrojnici, museli mít nějaké zbraně."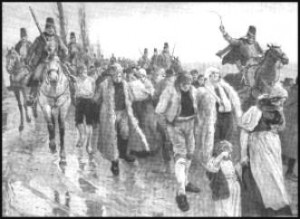 Současně se stalo i to, že do zámku utekli Bredovi věrní poddaní, kteří se nechtěli připojit na stranu nespokojenců. I na tomto nevelkém panství nemůže být o spontánnosti a jedno­hlasném připojení k rebelii řeč. Lemberský písař si plně uvědomoval, na čí straně byla v oněch hodinách převaha. Proto se shromážděným pokusil alespoň nahnat strach, když nechal na­bít dělo a několik mušket a dal vypálit pro výstrahu deset ran. Tím došlo na první pohled k opačnému jevu, než možná očekával. Zprvu "ti, kteří chtěli táhnout ptoti zámku, byli skleslí a malomyslní. Ale potom v noci asi 300 shromážděných vzbouřenců se dalo na pochod. Táh­li od jedné vsi ke druhé, aby donutili k účasti ty, kteří chtěli být poslušní. Ti poddaní, kteří by zůstali věrní a nechtěli s nimi držet, se ocitli v nebezpečí. Bylo jim vyhrožováno a proti jejich domovům užito násilí, do oken jim házeli kameny".

Hrabě Breda k tomuto jednání poznamenal: "Po dobu, co držím Lemberk, se mi nikdy nic takového nestalo. Písař a rychtář si po těchto událostech žádají ochranu, chtějí být vy­slechnuti, aby vypověděli o tom, jaké násilí se jim dělo."

Nejen urozený muž, pan hrabě, vydal svědectví o událostech oné soboty. Jeho slova může­me konfrontovat s dopisem, který v březnu roku 1680 napsal tesař Michel Schöbel ze Žibřidic svému bratrovi. Jistě pozoruhodný doklad gramotnosti, který – řekněme hned – není v této době ojedinělý. Michel Schöbel zachytil přirozeně jinou optiku oněch událostí než urozené ženy či mužové: "O věci jsem nic nevěděl až do 13. ledna, kdy v noci vypukla v Lemberku první vzpoura. Lemberští proto poslali do naší vsi posla, který vypověděl, jak to probíhá. Zakrátko se objevili v naší vsi a hnali nás jeden přes druhého. Přišlo totiž skoro dvacet domkářů. Vy­táhli mne z postele a řekli:' Jsi poctivý muž, pojď na rychtu; pokud jsi ale šelma, zůstaň doma.' Nevěděl jsem, co mám dělat, nebo, co by bylo správné. A tak jsem šel na rychtu a zeptal se, oč se jedná. Odpověděli mi: 'Před několika dny jsme byli se suplikou u císaře.'" Tesař Michel Schöbel nezamlčel svou skepsi k počínání lemberských poddaných: "Do dnešního dne ale nevím, co si nechali napsat. Proto jsem řekl, zdali to nechali vědět hraběti. 'Bylo by lepší a Bůh to ví, aby vrchnost o tom věděla. Pokud by tomu tak nebylo, tak co nám to přinese, potom bychom měli volit lepší čas.' Odpověděli mi takto: 'Není více milosti u naší vrchnosti, už toho máme dost. Žádali jsme našeho hraběte ve věci berně, soli a předení. Nedostali jsme žádnou milost, když nám chtěli vyrvat srdce z těla, což by rádi udělali.' Tak jsem jim řekl :'Podívejte se na to, co děláte, to nejsou žádné malé věci, když chcete začít, tak byste to měli mít dobře rozmyšle­né.' Nadávali mi, že jsem šelma a řekli: 'Když nechceš s námi držet, mohlo by se ti něco přihodit.' Tak jsem musel držet s nimi. Přitom jsem neučinil nic, co by mohlo být považováno za zlé, po celou dobu jsem přitom činil dobře a nejlépe."
Michel Schöbel sdělil svému bratrovi rovněž znění přísahy, kterou museli složit druhý den: "Druhý den přestali pracovat a všichni přísahali. Museli jsme zvednout dva prsty a říci: 'Přísahám Bohu a všem svatým, že chci žít a zemřít s obcí, dokud se nevyřeší naše věci. Pokud bych tak neučinil, Bůh si nevezme ani kousek mé duše.'" V tomto kontextu Schöbel také vylíčil – jaksi nadčasově a snad poněkud neočekávaně – svou představu o přísaze, kterou jsem již uvedl výše. Na závěr by rád poprosil svou vrchnost o milost.
Dalším pěkným dokladem "odlišných proudů" byl soukromý list tesaře Michela Schöbla, tentokráte určený Christofovi Mieselovi, důchodnímu písaři lemberského panství, nesoucí datum 11. března. Oznamuje v něm, že "pan hrabě se v Praze přísně ptal po nás tesařích, vždyť my tesaři jsme od něho téměř pořád dostávali ptáci. Řekl jsem jim, co jste mi oznámil, že jsme se dostali do hraběcí nepřízně. Co se týče naší práce, musíme být přesnější, neboť pokud někdo z nás přijde o čtvrt hodinky později, byť se mohl zdržet cestou, jistě se nevyhne trestu". Tesař měl otevřený strach, když uvádí: "Nešli jsme s žádným sedlákem. Prosil jsem pana důchodního, že pokud jde o moji poslušnost, přál bych si, aby byla skryta. Je to proto, že bych mohl utrpět škodu od obce. V noci přišla ke mně nějaká šelma, rozbila okna mého domu, hovořili se mnou zostra."
Výsledkem událostí před lemberským zámkem se stala nakonec petice poddaných vlastníkovi panství hraběti Rudolfovi Bredovi, předaná dne 15. ledna 1680. Jedná se o zajímavý dokument, neboť jej nelze považovat za "klasickou" petici či stížnost. Ukazuje, že byl sepsán nejspíše přímo v Lemberce. Dříve než prezentovali svých 16 článků, předsunuli nespokojenci obšírný popis toho, co se na panství stalo v posledních dnech, jak v souvislosti s Michaelem Krieschelem, pisatelem první petice, tak s Michaelem Teichgräberem. Měl se proti němu postavit lemberský rychtář, který držel pistoli, a zavolat proti shromážděným: "Vy šelmy, kdo z vás pochází, chci, abyste klesli jako psi." Poddaní uvádějí majiteli panství, že pokud neuspějí, obrátí se se svou stížností přímo na císaře.
pokračování příště…..
Zdroj: Selská rebelie roku 1680 od Jaroslava Čechury